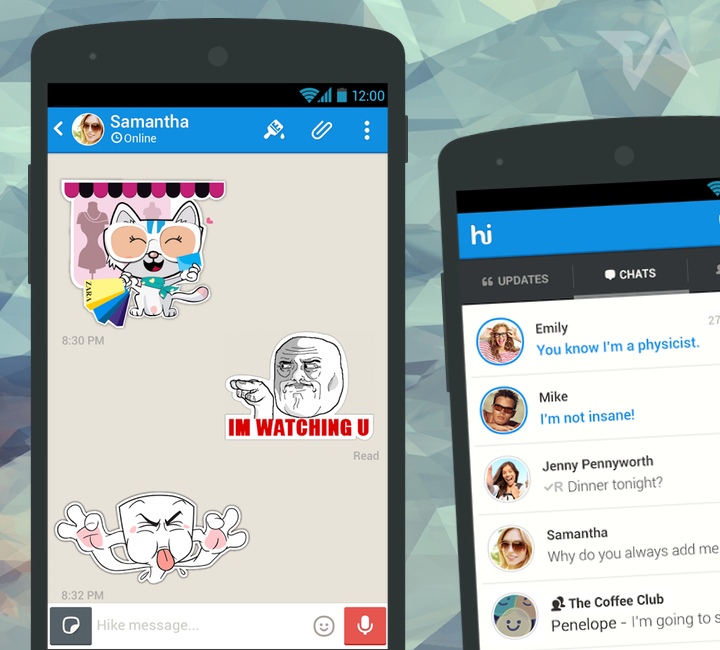 Teens in India just got another tool to keep their chats hidden from the prying eyes of parents, or anybody else for that matter. Free messaging app Hike, the Indian answer to WhatsApp, Line and WeChat, just crossed the 20 million registered user mark today, and to celebrate the occasion, it has introduced a 'hidden mode' that protects private chats with a password. No one will know the chats exist until they're unlocked.
"In a country like India, where teenagers stay with their parents and families, where their need for privacy is constantly challenged, we believe this feature could be a boon," says Kavin Bharti Mittal, who directs strategy at Hike. The app was launched in December 2012 by Bharti Softbank, a joint venture of Bharti Enterprises and Japan's Softbank Corporation.
Hike has been trying to differentiate itself with features designed for Indians, who make up 90% of the app's users. For example, its offline option converts messages into SMS for those who are not connected to the internet, either temporarily or because they use feature phones that are not internet-enabled. The SMS reply gets converted back into a Hike message, and so the chat can carry on seamlessly even if one of the chatters is offline. Given the large number of feature phone users in India and poor internet coverage in many parts of the country, this can be very useful.
Another feature, which the team unveiled today, enables a transfer of up to 100 MB in any file format. This should help small businesses and traders in India, for whom free messaging apps have been a boon for cutting communication costs. They will no longer have to switch to email or memory cards to share documents, images or audio files.
"We're building all these new features based on feedback from Hike ninjas (beta-users). This approach is working really well for us," Kavin Bharti Mittal says.
The rapid growth in its user base in just a year and a half appears to support that view. It was in late February this year that Hike crossed the 15-million mark and now it has 20 million plus registered users. With over 100 million active mobile internet users in India, more milestones can be expected in quick time.
That's not to say the competition is flagging. WhatsApp, with its no-nonsense interface, is still the most popular messaging app in India, with 50 million monthly active users.
See: Despite WhatsApp's dominance in India, investors still bet on local chat apps like Hike