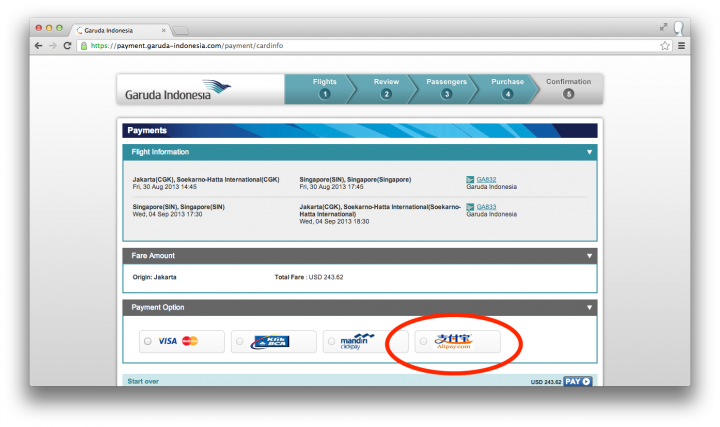 While we've been hearing about how Chinese internet giant Baidu is planning to enter Indonesia, we've also stumbled upon another internet giant from China popping up in Indonesia. That service is payment gateway Alipay, which is being used by Indonesia's flagship airline Garuda Indonesia. Is this an indication that we'll be hearing more of Alibaba, the maker of Alipay, in Indonesia soon?
Daniel Tumiwa, the VP of Garuda Indonesia's e-commerce division, tells us that the company started using Alipay last month. He states the company's reasons for this move in six phrases: "Logical; huge member base; practical; part of life; ease of use; great marketing partners." The Garuda Indonesia team plans to kickstart its first campaign related to Alipay next month, hoping to get a "major increase" in Chinese customers with this partnership.
Chasing after Chinese tourists, the world's top travel spenders
When asked if there's also the possibility that Garuda Indonesia will implement other payment gateways for Chinese tourists, like Tencent's Tenpay, Daniel says yes. He stresses that he doesn't want to mention any names but discussions are ongoing and the company has an aggressive target to further develop more payment options. Daniel iterates that right now they are focused on making their relationship with Alipay and all its assets work well and be beneficial to both parties.
Daniel adds that Japan, Korea, and Greater China are the world's biggest growing travel markets, so it is natural for them to take necessary steps to cater to people from those areas. Chinese tourists spent a record $102 billion on international tourism in 2012, and are now the world's top travel spenders.
He explains that there are a lot of things cooking in terms of Garuda booking features right now, and users should hear or feel the improvements soon.
After this major step, it is possible that we'll be hearing more of Alipay's usage in Indonesia in the near future.
(Editing by Steven Millward)