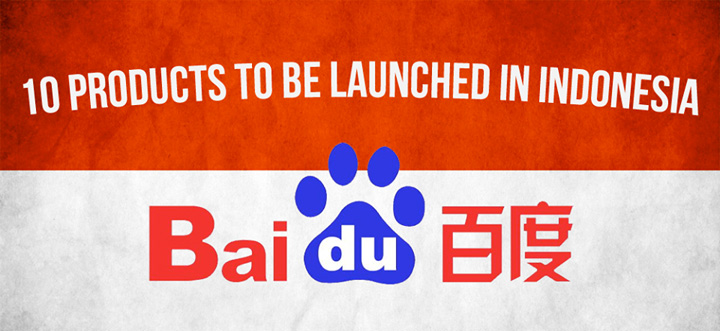 Updated on October 16th: Baidu has clarified to us that Japanese typing apps Baidu IME and Simeji are specifically for Japanese-speaking users, not particularly for Indonesians.
Today at an event in Jakarta, China-based internet giant Baidu (NASDAQ:BIDU)
revealed quite a few details about its expansion plan in Indonesia. Those details include who's in charge of kickstarting Baidu's Indonesia project, as well as a number of upcoming products that Indonesians can expect to see in the future.
Baidu started to approach the Indonesian market last year with a localized Hao123 site, and the company plans to open a local office this year. Right now Baidu Indonesia is headed by Bao Jianlei as managing director and Aji Kuspriyanto as business manager for the country. Jianlei's business card shows a Chinese address, and it's not clear if Baidu's Jakarta office is ready right now.
Baidu will go "mobile first" into the Indonesian market. The team will pursue both search engineering products and also various mobile apps. But its actual search engine will not be part of the expansion, so Baidu isn't yet challenging Google in Indonesia.
Baidu's PC apps for Indonesia
There will be 10 products – five for PC and five for mobile – that Baidu is looking to launch in Indonesia. The five PC products are Baidu PC Faster, Baidu Antivirus, Hao123 (web directory), and Baidu Spark Browser.
4 mobile Baidu apps for Indonesia
The five products for the mobile market are Du Battery Saver, Instagram-like Photo Wonder, Hao123: Reader and Sites, and Baidu Browser. Interestingly, Du Battery Saver alone has already garnered 2.3 million downloads in Indonesia, whereas the Photo Wonder app has passed the 100 million download mark in China. Baidu acquired that startup app back in November 2011.
Global ambitions
The company has lofty ambitions when it comes to international expansion. By 2019, the company aims to achieve three things worldwide:
Be the number one media platform.
Be a household brand in half of the world's countries.
Have more than 50 percent of the world's population using Baidu products.
Besides Indonesia, the company aims to make its presence felt in emerging markets like Thailand, Brazil, Egypt, Saudi Arabia, and UAE. The company says that it currently has 600 million PC users in China, on top of its 100 million mobile users there. (Update: Change the headline to make it more clear that the Jakarta branch office is not yet open).
(Editing by Steven Millward and Anh-Minh Do)