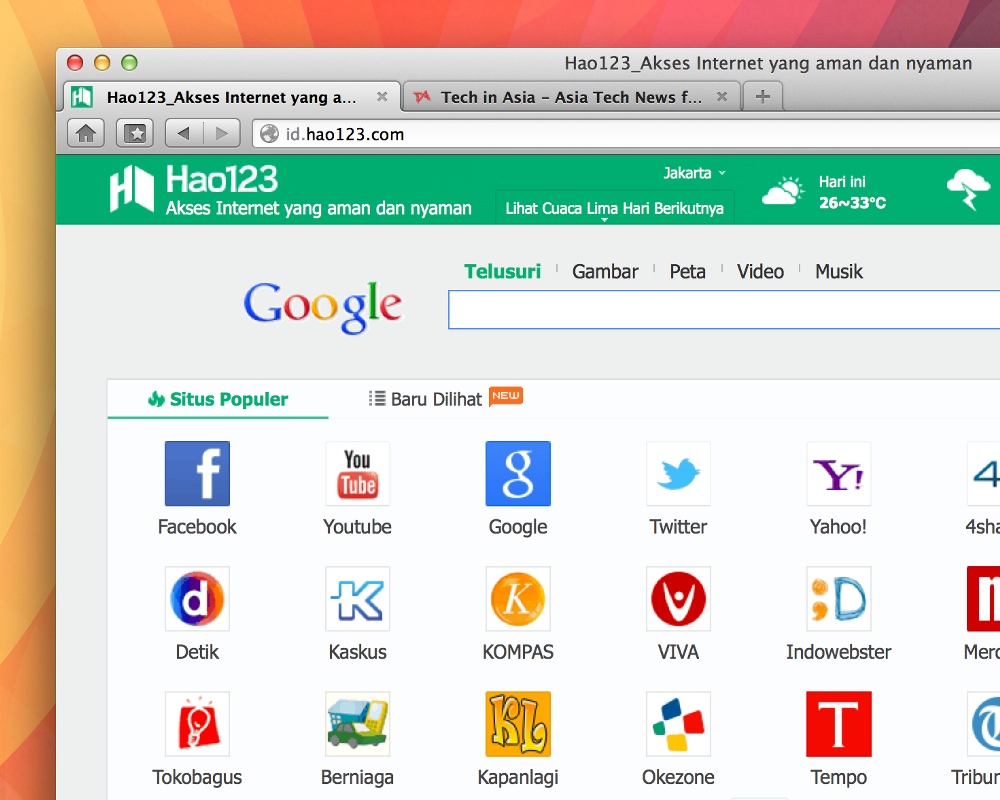 While we were doing our usual browsing of the web we stumbled on something very interesting: a new site by China's Baidu (NASDAQ:BIDU) that's an Indonesian version of its web links portal Hao123. Just like Baidu's other Hao123 sites outside of China, the new portal for Indonesia uses Google's search engine rather than Baidu's. Baidu declined to comment about this stealthy launch.
Baidu also runs its Hao123 portal – which is a sort of web directory like AOL or Excite – in other Asian and Mid-East countries in their local languages, like Vietnamese, Japanese, Thai, and Arabic. Plus it operates in Portuguese for Brazilian netizens.
Like all such web directory sites, Baidu's Hao123 monetizes from advertising and paid links. The Indonesian site has links to local web favorites such as Kaskus and Tokobagus, plus lots of other local and global media and social sites. It's not clear if those are all paid link. Of the five search options on the Baidu Hao123 site, three lead to Google searches, while 'video' leads to Youtube, and 'music' goes to the notorious piracy site 4Shared.
Earlier this year, another Chinese company made a move into Indonesia when Tencent president Martin Lau was cautious in saying that it's in talks with local company MNC Media about the possibility of launching a search engine in the country.
While it's not guaranteed that Indonesia will see the launch of Baidu's search engine any time soon, Baidu is doing research into Southeast Asian languages at its new Singapore R&D lab, so it's core search engine could finally expand to somewhere other than China and Japan.
Baidu, which is China's top search engine, has been looking overseas a lot more in the past year; aside from that lab, it has launched antivirus products for Southeast Asian markets, and zoned in on north Africa and the Mid-East with its mobile browser app.