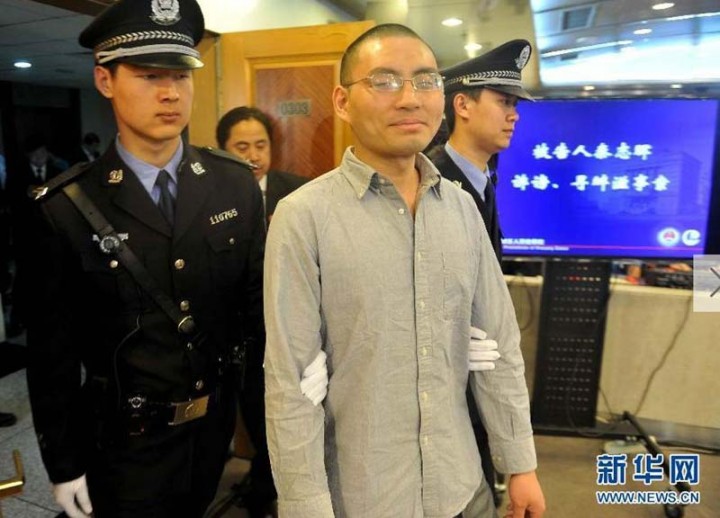 Qin Zhihui – or as he's known online, Qin Huohuo – was sentenced today to three years in prison and denied appeal on charges of defamation.
Offline, 31-year-old Qin led a relatively uneventful life in marketing. Online, however, the Weibo celebrity, or "Big V", had 12 separate Weibo accounts that the court says he used to post over 3,000 libelous tweets, which were shared thousands of times by his followers and his followers' followers.
Qin's lawyer's maintain their client never knowingly spread false information, but Qin still "voluntarily" made a public apology for his misdeeds (translation ours):
First, my behavior was not legally permitted. In fact, a misled everyone's views on public figures and government departments. Second, I did not realize that [Weibo] is not just a virtual space, the site is free. I crossed a red line. I seriously damaged the honor and reputation of others. Third, there is a saying that the internet is not outside the law. I just ignored it and ignored the law and morality.

I have nothing to defend myself. I just want to say, I hope I can warn others not to do stupid things like me.
Another controversial Chinese internet influencer, Charles Xue, was just released on bail after almost eight months in detention. Xue, who was arrested for soliciting prostitutes, gave a similar televised confession for his online rumor-mongering. Now, just as Xue is let go due to "severe illness", Qin will take his place as the next cautionary tale to outspoken Big Vs.
But while Xue was arrested on charges officially unrelated to his online activity, authorities took a more direct approach with Qin. Some of Qin's most contentious topics included:
The Wenzhou train collision, in which two high-speed trains collided, killing 40 people. Qin alleged the Railway Ministry paid EUR 30 million (US$41.5 million) to the family of an Italian passenger who was killed to keep quiet.
Qin argued the story of Lei Feng – a poster boy for the Communist Party during Mao Zedong's rule – was fabricated. Lei Feng was meant to portray a happy common soldier, but Qin alleges the real Lei Feng was actually quite wealthy.
A conspiracy saying some Chinese civil servants were forced to donate to the Red Cross or else have their wages cut, making China look like a more charitable country.
Qin also made several personal attacks on public figures, alleging nepotism, corruption, and fraud. His arrest marks one of the most high-profile cases yet since Chinese authorities began a nationwide crackdown on online rumors. To be eligible for arrest on grounds of defamation, a post containing libelous information must be viewed 5,000 times or forwarded 500 times.
See: Weibo's content gap: just 5% of users post nearly all original content
Weibo is set to go public on the NASDAQ later today.
(Hat-tip to Bill Bishop for spotting)
(Image credit: China Daily)