Chinese authorities have recently been clamping down on some of the nation's outspoken celebrity bloggers and Sina Weibo users, trying to temper down a possible rise in online activism. Prominent investor Charles Xue, a Chinese-American, was arrested in Beijing in late August on charges of soliciting prostitution – but many observers fear it's a trumped up charge aimed at silencing influential Weibo users. It also comes amid a clamp-down on rumors spreading over the internet.
Over the weekend, Chinese state TV showed an extraordinary confession by Charles Xue in which the businessman – who often discussed politics and social issues on Sina Weibo with his 12 million followers – apologized for mistakes made in his online postings.
Confession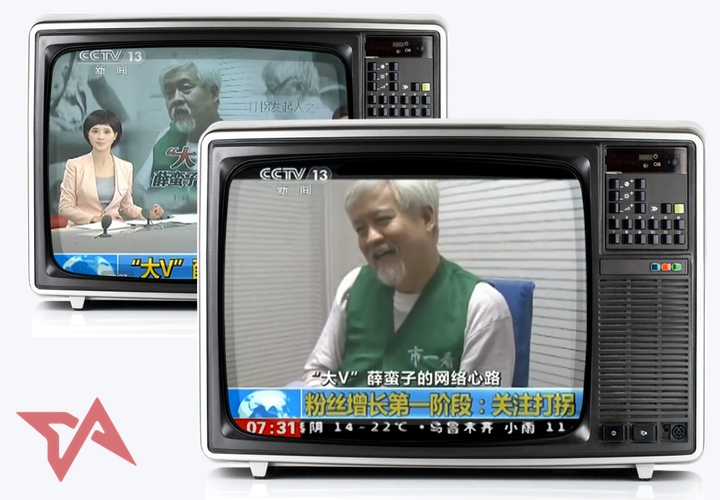 In the 10-minute slot on the CCTV13 news channel that was mostly devoted to Xue's mea culpa, the businessman, wearing a prison vest yet looking and sounding quite cheery, said of his Weibo posting habit (see the full video in Chinese here):
It gratified my vanity greatly. I got used to my influence online and the power of my personal opinions . . . and I forgot who I am.

[…] At first, I was careful and I didn't write many posts. But later, I posted more than 80 every day. . . . In the beginning, I verified every post. But later on, I no longer did that. All of a sudden you draw so much attention. How do you describe the feeling? Gorgeous.

[…] First of all, I didn't double-check my facts. Secondly, I didn't raise constructive suggestions to solve the problem. Instead, I just simply spread these ideas emotionally.
Mao-era humiliation?
Xue also confessed to soliciting prostitutes in Beijing. More than 10 women allegedly linked to Xue via the vice trade have also been arrested.
The Washington Post suggests this public humiliation is akin to Chairman Mao-era self-confessions. The mea culpa might aid in a reduced sentence for his crimes of both hiring prostitutes and spreading rumors.
As we noted last week, a Sina Weibo post based on a rumor that goes viral can lead to the original poster being arrested and sentenced to at least three years in jail.
Another vocal social critic, Dong Rubin, is also under arrest right now. In the past, other influential and outspoken businessmen, such as former Google China boss Kai-fu Lee, have been questioned by the police but released without charge.
(Translation via Washington Post)
(Editing by Paul Bischoff)