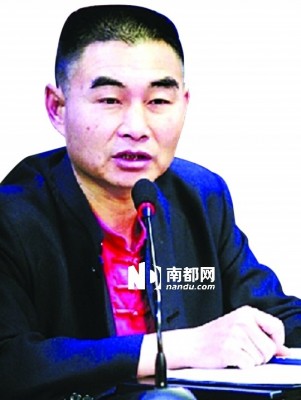 Most Chinese internet users probably wouldn't recognize the name Dong Rubin, but many know the man by his online handle, bianmin ("frontiersman"). Since 2009, the Kunming resident (pictured) has been an outspoken critic of Chinese authorities online starting with the famous "hide-and-seek" case, in which authorities claimed a man who died in police custody was killed while playing a game of hide-and-seek with other inmates.
Dong was detained on Tuesday by Kunming police, who lured him out of his apartment by telling him that his car had been hit, and then detained him when he appeared. His laptop and some other computer equipment was also seized. Police have stated the reason for Dong's detention is that he mis-registered the amount of capital available to his business, a "crime" which Dong himself admitted to online the previous week. Net users, however, are worried that capital registration mistake is just an excuse the authorities are using to get back at a man who has challenged them repeatedly over the last few years.
And indeed, if mis-registering his business's capital is all he's done wrong, it seems that Dong oughtn't be in too much trouble. According to the state-owned Global Times:
It is common for private enterprises to exaggerate their registered capital to imply that they are powerful and credible, Wu Dong, a Shanghai-based lawyer from the M&A Law Firm, told the Global Times.

Owners of such companies can be charged with a crime only if they cause financial damages of more than 100,000 yuan to others or carry on illicit activities, Wu said.
The skepticism is compounded by the fact that a number of other critical opinion leaders on Sina Weibo have been arrested or detained recently, including Xue Manzi. Given that the government has also recently gotten very serious about its war on rumors, it seems like now may be an especially dangerous time to be speaking out on Chinese social media.
(via Southern Metropolis and Global Times)