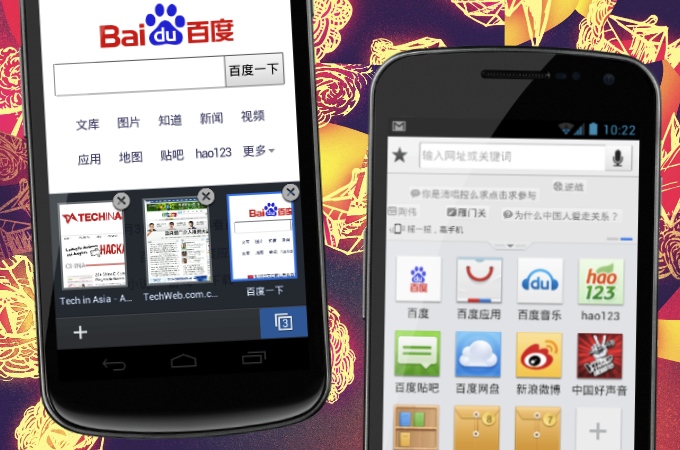 Today at Baidu World, CEO and co-founder of Chinese search giant Baidu, Robin Li, announced a hugely revamped version of its mobile browser, available on Android, Windows Phone 7, and Symbian, both in Chinese and English. This announcement has also practically killed off the rumors that Baidu is considering an acquisition of UCweb, the company behind UC Browser, China's most widely-used mobile browser at the moment. Clearly, Baidu is thinking that it can beat its rival without a costly acquisition.
But the last time we looked at mobile browsers and their share of web hits in China (to Baidu domains, in fact), UC Browser was the market leader with 30.3 percent share; rival Tencent had 19 percent. Embarrassingly for Baidu, its own earlier effort didn't even register with a number, so it was clearly failing. That perhaps explains why Baidu is pretty much starting from scratch with this app.
Baidu (NASDAQ:BIDU) has a PC-based browser which was launched last year. The search giant also has a mobile cloud OS, based on Android. On top of all that, a browser is a good way of keeping people in your own ecosystem. Here are five unique things about Baidu's relaunched mobile browser:
---
1. Look and Feel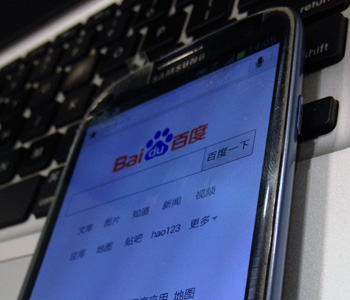 ---
Let's start with its design. We got a chance to test the browser and I thought the user experience is pretty standard, just like most browsers. It has a grid of icons layout which allows users to bookmark their favorite pages or web apps on the browser homescreen (see the top image). But following this standard isn't necessarily a bad thing. It's pretty easy to tune into and learn how to use it.
---
2. T5 Technology = HTML5
---
Baidu browser prides itself on its own so-called T5 technology. 'T' stands for Taikonaut and '5' stands for HTML5. In laymen's terms, Baidu claims that T5 provides a faster and better looking browsing experience through its HTML5 optimization conforming to web standards. The company also claims it has the highest HTML5 test score (482) among other mobile browsers (via html5test.com):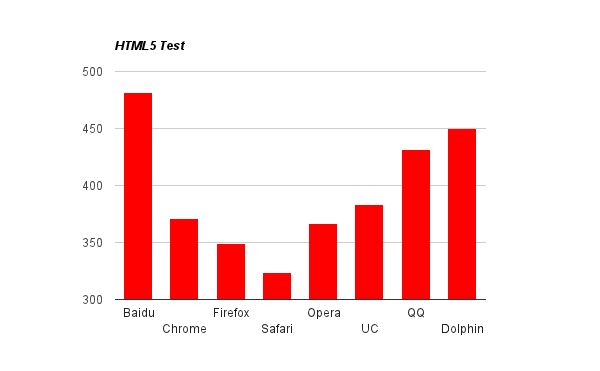 (Note: From Html5test.com: "The HTML5 test score is an indication of how well your browser supports the upcoming HTML5 standard and related specifications." Maximum score is 500).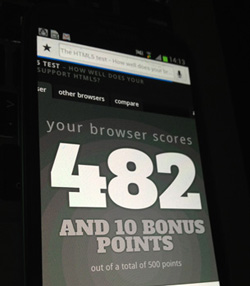 Baidu's mobile browser with T5 is also WebGL compatible which allows 3D graphics rendering on the the web page canvas itself without the use of any plug-ins. It also supports WebSocket which reduces needless data flow and thus reduces page load times. The Baidu mobile browser also embraces Web Worker which allows long background tasks to load without interrupting the front-end user interface. The new app also comes with a web notification API which allows developers to send notifications just like a native app does. The T5 engine can be switched off but I'm not sure why anyone would want to do that unless it eats up a lot of battery life.
---
3. Flash, Games, Apps, Cloud
---
Baidu browser isn't on iOS – so yes, it comes with Adobe Flash support, which will be a relief to developers of Flash-based games. And Baidu ensures that with its T5 technology that comes with WebGL and faster load speeds, developers are able to build better games with better web-standard technologies.
To date, Baidu says that there are over 100,000 web and mobile apps built by third-party developers for its PC browser so far. But the company isn't able to tell us how many of these 100,000 apps are mobile compatible. Baidu also has a fund to encourage more developers to build apps on its platform. It says that there isn't a fixed amount to provide to developers and each funding is provided on a case-by-case basis. Developers will also be able to use up to 100GB of Baidu cloud storage to host their apps and databases.
---
4. Web App, Native App
---
Web app or native app? For the average user, things can get a bit confusing on the new Baidu mobile browser. When you download an app, you can choose to either save it under Baidu mobile browser or to download it as a native app (assuming the developer provided both). Why is Baidu doing this? More later in the day as my thoughts settle on this browser
---
5. Search
---
The default search engine for Baidu's mobile browser is — surprise, surprise — Baidu. It doesn't allow users to change search engines, and I find that a little disappointing. It will be okay for Chinese users since Baidu is preferred here. But for international users, searching on Baidu surely isn't ideal. Baidu also mentioned that it will give search ranking preference to websites which have mobile sites. Below the URL bar, users can also view trending searches which can be refreshed with a shake of their device. Baidu also allows voice search which is surprisingly quite accurate as I did a couple of search tests with some popular local services, like "Tudou" and, uh, "Qihoo 360."
All in all, the Baidu mobile browser feels pretty neat now, and finally feels like a powerful tool. I can see it getting a decent share in the already tightly-squeezed Chinese mobile browser space — up against QQ Browser, UCweb, Oupeng (Opera's specialized browser for China), Maxthon, and many more. The three Chinese-made ones are pushing overseas, and UCweb is already doing well outside of China. But Baidu's effort is perhaps not quite ready for the international market which generally demands way more mobile browsing options, such as the option to choose Google or Bing for search if you prefer. Yes, that may not necessarily be better in terms of speed or continuity, but surely better for it in the long-run in terms of brand recognition and gaining a share of the mobile browser market.
Get the Baidu Mobile Browser from its homepage.
[UPDATED: Added in that second paragraph shortly after publishing]