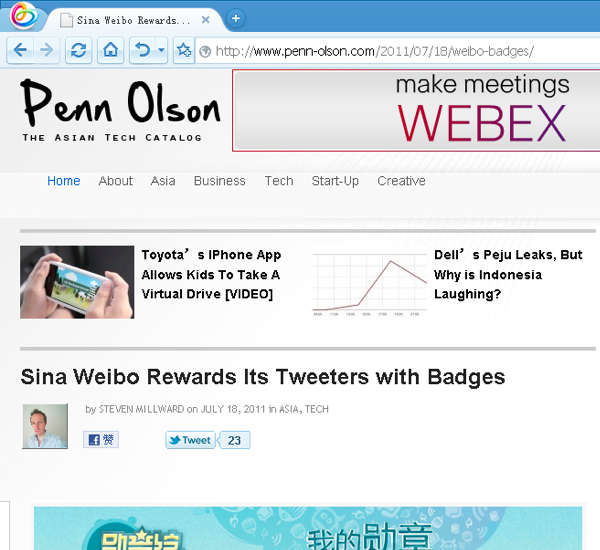 Baidu has launched a web browser for Windows computers that's focused on web apps and easy customization.
Running on XP, Vista, or Windows 7, the brand new browser sees Baidu being inspired by Google to help its users access the web in a more modern way than they're used to.
After installing the browser and giving it a spin, it's quite noticeable that it looks a bit too much like Google's Chrome. But then I'm a Firefox user, and Firefox 4 very clearly borrowed a lot from Opera, so let's just let that slide.
---
Apps and Games
---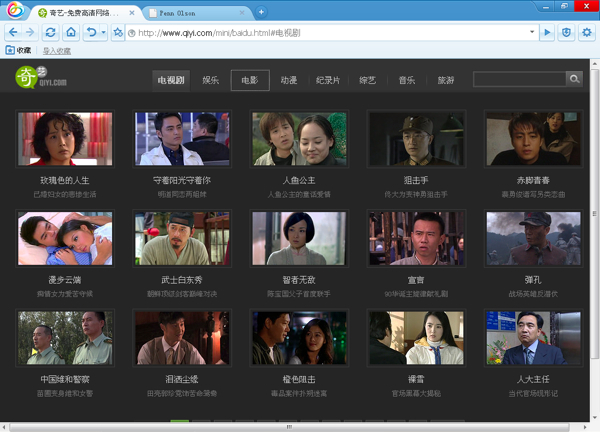 Disappointingly most of the "web apps" presented on the browser's fixed apps page are just links to conventional websites. No, not special HTML5 sites – as Google Chrome has with Tweetdeck, the New York Times, and so many others – but just a link to the regular
Youku
or
Sina Weibo
front page. Of course, that might well change with time, but custom apps are thin on the ground now.
Where web apps do appear, they are interesting and welcome, especially when multimedia. Baidu's video-on-demand site Qiyi.com has – perhaps not surprisingly – the best web app (pictured above), giving you a minimalist yet fully working site in a tablet app style layout.
Others, such as Douban's or PPTV's, are proper web apps that'll look very familiar to regular users of Baidu's search engine, and that's because they seem to be heavily based on the search widgets that Baidu calls its "box computing" platform, which Baidu gave us a guided tour of very recently.
The game apps in the browser are just links to Flash games. Hopefully later we'll see some more cutting-edge games appear on there, and perhaps even some casual social games – but for the moment just dishing out Flash games isn't too exciting.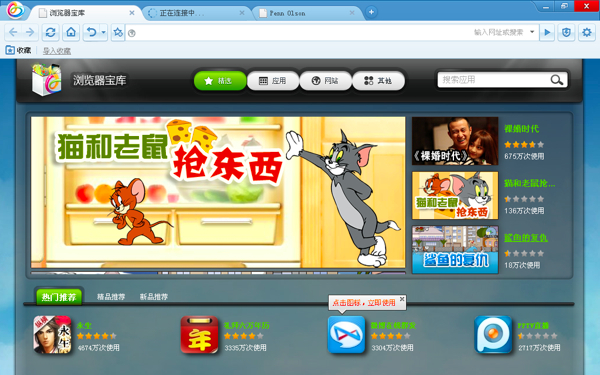 New apps can be added either via a sidebar from the app tab, or at a specialist Baidu Browser web store (see above). On that store you can also browse individual movies or TV shows, and jump straight into watching them with one click, and they'll be served up in whichever app is hosting it. I clicked a random TV series, and it quickly and smoothly streamed an episode via the PPTV web app player.
On a bit of a downer, I'm not sure which rendering engine powers this browser [Update, July 19th, PM – After reaching out to Baidu, they've informed me that "Baidu Browser uses IE for web browsing and Webkit for applications"], but it doesn't feel or look as good as Firefox (based on Gecko) or Chrome (which uses Webkit). It renders spaces quite oddly, and in English it dislikes words with apostrophes, and renders them with huge gaps. Also, closely-packed elements on a page appear borked, and tend to get stacked instead of their proper side-by-side arrangement. On the Penn Olson site, Baidu Browser failed even to render the Disqus comments box. As someone who hasn't used Internet Explorer for over five years, the lag in web standards compliance was glaring, but I guess it would not be an issue to someone switching from IE.
---
Customization
---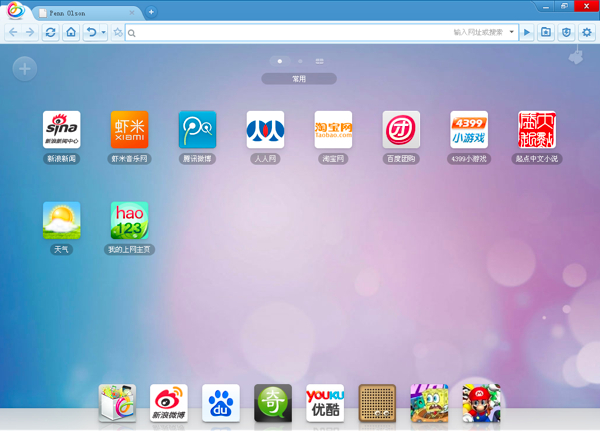 For now, customization might be the biggest charm for any Chinese netizens venturing to try this app. The apps tab is easily clothed by touching the T-shirt icon in the top-right, and the icons themselves are easily arranged onto the lower dock, in gestures familiar to anyone who has used an iPhone or
iPad
.
In addition, there's a convenient security button to the right of the URL/search box that rates a site's safety. And, whenever you start a new tab, there's a "new tabs" page in the manner of Chrome, Opera and Mozilla China's tweaked Firefox, which Mozilla recently took the time to explain to us.
In a nutshell, Baidu Browser has some weaknesses and quirks, but it's a very capable and elegant piece of software that has made a quick start with this week's launch. It won't feel like an upgrade to the minority of Chinese people who already use Firefox or Chrome, but for the vast majority it has the potential to offer a much modernized and beautified approach to web-browsing.
Its nearest rivals might well be other very recent, locally-made browsers, such as those by Sogou, Tencent, and even Alibaba.
Baidu Browser is available here if you fancy taking it for a ride.