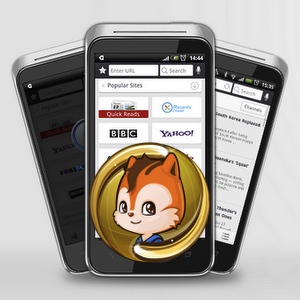 The makers of the popular UC Browser, Beijing-based UCWeb, is looking towards an IPO – probably in the US – in 2013. UCWeb CFO Roy Rong told Bloomberg in an interview that:
We're thinking this year may not be a good time. We're looking at 2013 right now.
The public offering would also be a way to accelerate UCWeb's global expansion, pushing its Opera-like web browser worldwide. Back in April of this year, UC Browser rolled out as an international version for Android (pictured right), and UCWeb said at that time that the browser had 40 million overseas users.
In May, we sat down with UCWeb CEO Yu Yongfu who explained that his company sets up an R&D office in any new country it wants to expand to in order to begin developing the localized version of the product. The firm, started in 2004, now has an office in India, and plans to open a US office later this year.
Talking to Bloomberg today, Mr. Yu explained:
It would be better for us, branding-wise, to be listed in the US. It would expand our brand name and make us better known.
In a recent report from Chinese web giant Baidu [1], UC Browser was the most-used browser for mobile visits to the search engine's services, with a pretty dominant 30.3 percent: