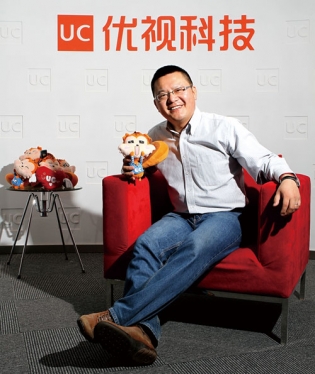 This afternoon at GMIC, UCWeb held a special parallel session they called "Going Glocal" — a combination of global and local, as you've probably guessed. I'm a fan of made-up words and I'm always interested in Chinese companies that are looking to expand beyond China, which UCWeb has done with remarkable success over the past few years, so I sat through the session and then sat down with CEO Yu Yongfu to learn more about how the company plans to take things "glocal."
The biggest news to come out of today's session was the announcement and signing ceremony of a UCWeb partnership with Evernote. Ken Gullicksen, Evernote's VP of corporate development, was on hand to show off the fruits of the companies' cooperation, which appeared to be a very slick integration of Evernote functionality into UCWeb's mobile browser. We didn't get any hands-on time with the new features, which are available in the newest version of UCWeb's international iOS browser, and will also be incorporated into the China version in June since Evernote has just announced its China service.
Of course, it wasn't all about Evernote, and UCWeb used the opportunity to show off some of its impressive statistics. The company now claims to have around a 25 percent market share in mobile browsers in India, for example, citing the latest data from Statcounter. Moreover, its share in India is growing rapidly, and the company is also experiencing quick growth in other markets, including the US.
After the session, I sat down along with a reporter from Forbes to speak with Yu Yongfu, UCWeb's founder and CEO.
On Localization
I asked Yu to talk about how UCWeb approaches localization as it moves from China into international markets, and he revealed that for his team, it's a multi-step process. First, UCWeb dispatches a small team to the location to conduct market research and determine the needs and desires of the local market. Then, it establishes a forum of sorts to facilitate the exchange of ideas, especially with "superfans," UCWeb's most ardent supporters. Finally, Yu told me, the company sets up an R&D office in the country to begin developing the localized version of the product. UCWeb opened its first India office last year, and the company plans to open a US office sometime this year.
Yu stressed that with localization, the issue is rarely the technology itself, but at the same time, it goes way deeper than simple translation. Accounting for culture and taste is just as important. "We always choose local designers to localize the product," Yu said.
On Online Payment
UCWeb recently revealed an agreement with Chinese credit and debit card behemoth UnionPay, allowing users to make payments quite simply right in their mobile browsers. But UnionPay isn't as useful outside China's borders. I asked Yu if the company had plans to enter into similar partnerships with payment companies in other markets, and Yu said that it did. "Since our founding, we have always felt very strongly: UCWeb is not a Chinese company, it's a global company," Yu told me, and as such, anything that the company does in China will be mirrored in its other markets once they find the right local partners. It's what Yu calls the "copy-to-global" model, and it seems to be the hallmark of UCWeb's strategic plans.
However, when pushed, Yu admitted that UCWeb didn't have any specific plans for the US market yet. He told me that the company was waiting for its userbase there to reach a certain level before looking for that kind of partnership. As of now, he said UCWeb has about 5 million monthly active users in America.
On Chinese Companies Going Abroad
Yu admitted he's no fan of the copy-to-China model. "That's something that I really hate," he said, but he stressed that it's also something he thinks we'll see less of over time. He pointed out that while it's true there haven't been many Chinese companies in the internet arena that have been globally successful, it's not a problem of talent. "In terms of talent, China has long since globalized," Yu said, referring to the numerous Chinese engineers that hold high level positions at a variety of Western tech firms. Part of the reason Chinese firms haven't succeeded, he says, is that the industry is still developing, and part of the reason is that the Chinese market is so huge that many companies spend all their resources just trying to compete in China.
He also threw in a little dig at Amazon and Microsoft, noting that both of them have essentially copied UCWeb's cloud browser acceleration idea (the former with the Kindle Fire's browser, the latter with the upcoming IE 10).
On the Money
My colleague from Forbes asked Yu about UCWeb's financial sitation, and though the company is not public, he did give up a few, and imply a few others. Yu said UCWeb makes up more than 50 percent of the its revenue from advertising at present. He admitted that's not ideal, especially in developing markets like India where there is very little money in mobile advertising at the moment, but stressed that he expected those numbers to climb as the market develops.
When pressed on profits, Yu waffled, saying that the company wasn't sharing that information. I got the distinct impression the company wasn't making much money — perhaps actually losing money — but it was also clear that Yu isn't at all concerned. The company will not be looking for additional venture capital funding. "I have enough money," Yu said repeatedly, and stressed that UCWeb's investors are in it for the long haul and not interested in pushing the company towards a quick IPO. The idea, Yu said, is not so much to make money now as it is to get into the right places now so that in a few years when the mobile market is more mature — especially in developing markets like India.
To that end, Yu said, UCWeb chose its three main targets — China, India, and the US — based on their strategic importance, rather than their ability to generate revenue in the short term. He said:
I think globally, China, India, and the US are the most important markets. So [our choice of these countries] is based on market principles. For example, our business in India doesn't contribute much to our revenue, but it's strategically important. And for us, at the moment, we're in the investment stage rather than the 'getting-returns' stage in the US.
This post is part of our coverage of GMIC 2012.