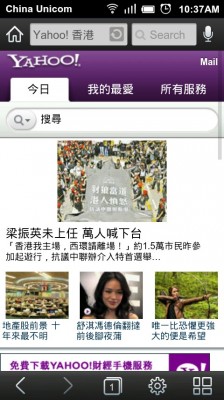 A lot of people — especially Western tech pundits — think that in the tech sphere, products and ideas tend to flow into rather than out of China. And it's true that many of China's biggest tech giants, even the truly innovative ones like Sina Weibo, haven't made much of a splash outside the mainland. But that is changing, and the homegrown browser company UCWeb has been leading the way, actively targeting users outside China even as it expands domestically as well. Last week, the company announced UC browser has more than 40 million active users outside China. (In total, the browser has more than 300 million users but most of them are in China).
Yesterday, UCWeb also launched a new version of its Android browser, an international version that is in English and that is specifically targeting the US. It features a lot of cool stuff like cloud acceleration and a built-in RSS reader, but perhaps the biggest addition is voice control, which now works in English (it was already a part of previous Chinese versions of the mobile browser). I gave the browser a quick spin on my own and was impressed with the speed, but I couldn't get the voice control to work properly. It could be something wrong with my internet here in China — I kept getting a network connection error — but voice recognition features in other apps on my phone worked fine. In any event, we'll give the browser a more thorough testing and a full review when we've had a bit more time with it.
The company also has an iOS version of the international browser coming in May, so Apple fans won't be left out.
It's pretty cool to see Chinese companies expanding into markets outside China, and it's something we expect to see a lot more of in the next few years. China remains a huge market, of course, but if your product is good enough, why not share it with everyone?