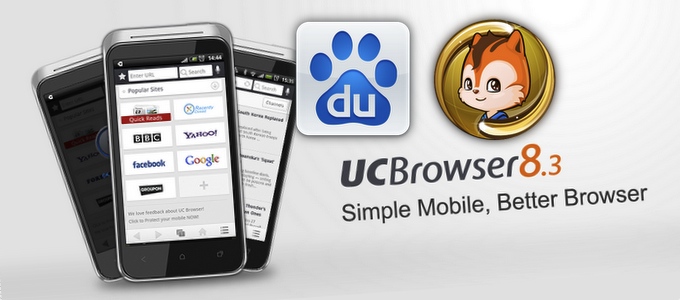 It is a truth universally acknowledged that a web company in possession of a good fortune must be in want of a mobile strategy. And so there's a ring of plausibility to new rumors in the Chinese media today that Baidu (NASDAQ:BIDU), China's search engine giant, might be trying to acquire UCWeb, the Chinese makers of the globally popular UC Browser (pictured above), which has over 40 million users outside of the middle kingdom, and is the leading mobile browser within it.
Today ChinaZ says that Baidu is seeing a dominant 30 percent of all mobile traffic to its sites coming from various versions of the cross-platform UC Browser – but that figure could be even higher in practice. And so, to gain more control over that sizable user-ship, and perhaps to spare itself the efforts with Baidu's own mobile browser, the search engine is reportedly in talks with UCWeb with a view to an acquisition. UCWeb – which has 200 million users of its browsers – might be worth as much as US$1 billion, which would make its buyout as large as Facebook's snapping up of Instagram earlier this year.
UCWeb has the option to replicate Opera (OSE: OPERA), the Norwegian company behind the original cloud-boosted mobile browser, and go for a public listing when the time is right. But an exit via an acquisition is perhaps more likely. And though it would be no mobile strategy panacea for Baidu, it would give a greater visibility to its own mobile platform – spear-headed by its Android-based smartphones made by Dell and Changhong – as well as provide a mobile-oriented boost for products that are important to its bottom-line, such as its Hao123 links portal, since UCWeb is already doing this kind of mobile monetization very well. We contacted Baidu HQ in Beijing, but a representative could not be drawn to comment on any rumors.
When we talked to UCWeb's Yu Yongfu in Beijing last month, he told us that his company makes up more than 50 percent of its revenue from advertising at present, and that it's targeting China, India, and the US. Not because they can necessarily bring in the most revenue – making money from ads is especially tough in India – but because Mr. Yu sees those markets as the three main strategic mobile usage strongholds.
[Source: ChinaZ – article in Chinese]