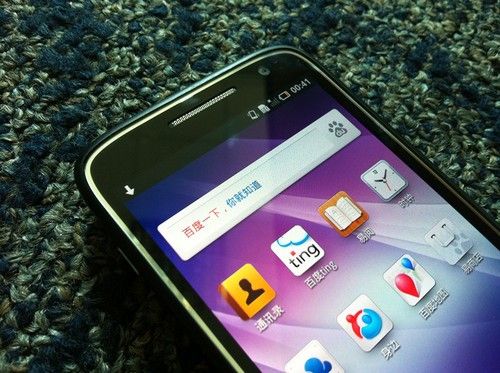 This morning in Beijing, the American company Dell (NASDAQ:DELL) is unveiling a smartphone that runs Baidu's (NASDAQ:BIDU) newly-launched Yi OS. It's a major partnership that marks the Chinese search engine giant's biggest move into mobile.
The Dell Streak Pro D43 (pictured above and below) has a dual-core 1.5GHz processor, a 4.3-inch Super AMOLED screen that's high-definition (aka: qHD at 960 by 540 pixels), an 8-megapixel main camera plus a 1.3-megapixel one for video-chatting, and has WCDMA 3G that'll run on China Unicom (NYSE:CHU; HKG:0762), the same network that carries the iPhone in the country.
The Baidu Yi OS is based on Google's mobile system, Android, which is permitted under the software's open-source structure. And so it features core Android features such as voice commands in Chinese, onto which Baidu has built an ecosystem of its own – with apps such as Ting for its streaming music service, Yue for e-books, and Baidu's own Maps app as well.
There's no word yet on price, but judging by the specs, Dell and Baidu are, with its first-ever Yi handset, aiming for the top-end of the market that's occupied by the iPhone and the likes of Motorola's (NYSE:MMI) new customized-for-China MT917 RAZR, which runs standard Android 2.3.
The pictures above, sourced from Sina Tech, show a familiar Android interface mixing app icons with widgets. There seems to be a very iPhone-esque folder icon on there too, which is a sign that Baidu has improved the poor folder system in Android 2.3, which is what the Yi OS is based on.
In due course, Baidu will also release an open API for Yi, with developer tools to allow more deep integration of apps with Baidu services. But for now, any app made for Google's Android platform will also work on Yi, giving Dell and Baidu the benefit of lots of apps and popular games, such as Angry Birds, ready to play on the new Dell-Yi device.
The press conference is still ongoing, and we'll update if more juicy details are revealed.