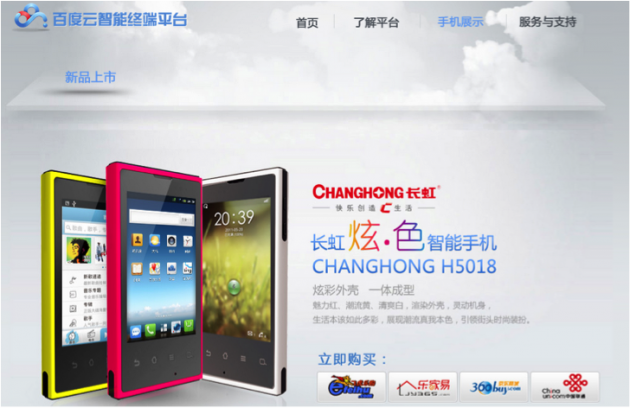 There's an interesting battle taking shape in China, as a number of companies are setting their sights on the nation's entry-level smartphone market. Over the past few days along we've seen Samsung put forth two low-cost handsets for China, and Shanda is reportedly bringing an Android-based phone to market in early June.
And now today, search giant Baidu (NASDAQ:BIDU) announced that it too is launching its own low-cost handset, the Changhong H5018, which is manufactured by Foxconn and will be soon be available across the country in cooperation with China Unicom. The phone will be priced at under 1000 RMB (which converts to about $158).
Perhaps what's most remarkable about this offering, is that Baidu is promising 'personalized smart Cloud services' as well, which will include a whopping 100 gigabytes of free personal storage via Baidu Netdrive. The phone has a 3.5-inch display, and is powered by Baidu's Cloud Smart Terminal platform which uses Baidu's many cloud-based applications. The company's VP of engineering Jing Wang noted in the announcement: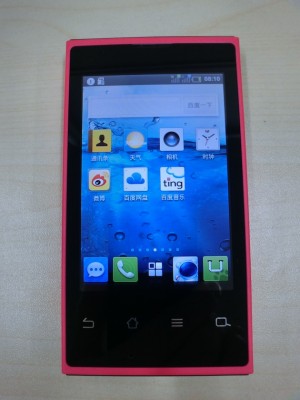 The Baidu Cloud Smart terminal platform is a crucial step in Baidu's overall Cloud strategy in the mobile Internet sphere. It is not only meant to create a high quality, smart mobile experience for users, but also, more importantly, it will significantly lower manufacturing costs for many mobile manufacturers and cooperating partners.
A representative elaborated on this last point, saying that with more apps in the cloud, handset makers don't need to sink as much money into processing power and/or memory.
As you might expect, Baidu wants to make search easy for users, and (as we mentioned last week when we first got wind of this phone) the H5018 will take voice and handwritten input as well as regular search. Initially I thought that this might use Changhong's own voice recognition tech for TVs which we wrote about a few months back [1]. But Baidu tells us that the voice recognition technology on this handset is indeed its own.
We don't know too much about the hardware specs, but we're hoping we can get a first hand look at this one sometime soon to give it a test run.
It's certainly good to see more and more low-cost smartphone offerings for consumers, especially ones with the brand recognition of Baidu.