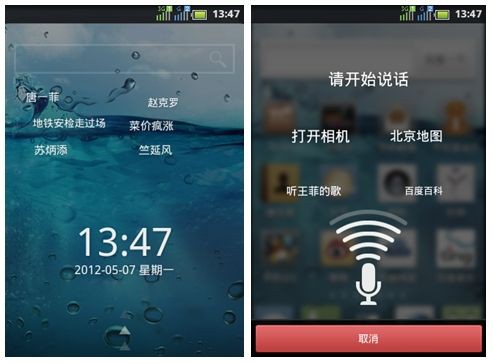 Screenshots have emerged (pictured above) of a purported new budget phone from Baidu (NASDAQ:BIDU), China's search engine giant. Rumors in the Chinese media suggest that it'll be a cheap yet fully-formed smartphone, costing 1,000 RMB (US$159) or less, and the hardware will be made by Taiwanese manufacturer Foxconn (LSE:HHPD; HKEX:2038; TPE:2354) – on which we reported last month.
Baidu already has its Android-based Baidu Yi OS that's currently only for sale in a pricey Dell device – so that software would likely be adapted to fit into this budget smartphone. It's a heavily reworked fork of Android that's packed with Baidu products such as its Ting music service, Baidu Maps, and lots more. It would also likely feature the company's new cloud storage platform. Indeed, the image on the right of the screenshot reveals these Baidu product icons on the phone's homescreen.
As we already know there might be a Foxconn-Baidu tie-up going on, and the Yi OS itself is nothing new, the screenshots reveal only that the OS is being tweaked, and that a cloud-powered voice assistant – like Apple's Siri – is being added by Baidu, perhaps replacing the more rigid say-a-command Google Voice Actions that appears in Android.
[Source: Techweb – article in Chinese]