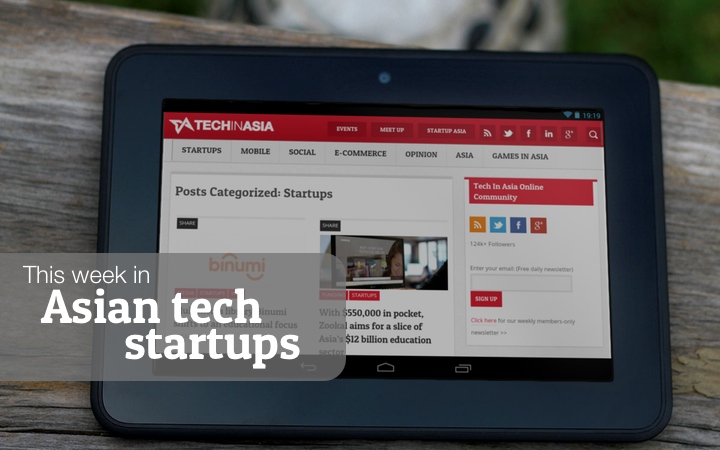 Here's our newest round-up of the featured startups on our site this week. If you have startup tips or story suggestions, feel free to email us or tell us about your startup on this form. Any juicy tech news tips go here. Enjoy this week's list!
Luxola is a Singapore-based cosmetic and skincare e-commerce startup that recently raised a major funding round led by the country's own F&H Fund Management. The startup currently has operations in Singapore, Indonesia, and Thailand, and they ship to Hong Kong, UAE, Brunei, Malaysia, Philippines, and Australia.
---
Launched in 2010, WebKul focuses on creating different open source platforms that allow ecommerce sites to quickly scale and add features. According to founder, their current solutions answer the gap that most web platforms – such as Magento, Joomla and WordPress – do not provide.
---
BookMe makes it easy for people to book movie tickets. Started from the Pakistani capital of Lahore, the startup covers almost all major cinemas in Islamabad and Karachi as well. Accessible via a website, an Android app, or even SMS, BookMe is the first of its kind in Pakistan. It doesn't take online payments yet, so users still have to pay in cash.
---
China's Giftpass exists as a 'service account' inside WeChat, and aims to remove all the usual hurdles, hassles, and barriers involved in online gifting. It uses the same powerful set of ecommerce features inside the messaging as brands like Xiaomi and Pacific Coffee, who sell products through WeChat.
---
Founded in 2011, FlyData is a Japanese startup based in Silicon Valley that makes big data storage on the cloud possible. The company also promises data analysts that they can move and analyze their data seamlessly and continuously on the cloud.
This week, the startup received an additional investment from Nissay Capital, Archetype Ventures, and CyberAgent Ventures.
---
Launched last year, Philippines' aCommerce offers an end-to-end solution for merchants who want to bring their products online. Not limited to building a website for brands and retailers, the startup likewise assists with the entire supply chain, managing the merchants' orders and directly delivering them to customers.
---
Baojia is a peer-to-peer car rental startup which lets users lend and rent their idle automobiles, but it's only available in Beijing for the time being. The startup's iOS and Android app lets renters find the available cars nearest them. The site also offers long-term rentals for those who need it. The company announced this week it received US$5 million from undisclosed angel investors.
---
Coupang originated as one of the many Groupon-inspired startups that emerged globally and has since pivoted towards traditional ecommerce of the Amazon-esque strain in order to stay afloat. This week, the startup announced it raised a round of investment led by Sequoia Capital Global Equities and Sequoia Heritage. The funding will be used to help the company continue its quest to clinch Korea's online shopping market.
---
Bindo offers small brick-and-mortar businesses a payment and inventory management system that seamlessly integrates with a web destination for online shoppers. the retail point-of-sale startup, announced it has closed a seed round from Gary Vaynerchuk, East Ventures, and Metamorphic Ventures.
Bindo was also the winner of our Startup Arena competition at this year's Startup Asia Singapore 2014, where it pitched alongside 9 other firms for a US$10,000 cash prize. In addition, the team won the audience vote for best startup of the bunch.
---
Compath Me's Kiddy is a photo diary social network targeted at families. It lets users take photos and share them on their own network of family members. But if they want their digital photos to be printed and delivered to their doorstep in Japan, they'll have to pay a small fee.
The startup has completed a financing round led by Venture United. The company has previously received investments from DG Incubation, Archetype, and Netprice.com.
---
Launched in 2008, PolicyBazaar is an Indian portal offering price comparison and analysis of insurance products. The startup revealed to have raised US$20 million (INR Rs 119 crore) in fresh funding.
---
Launched in April, Philippines' Bitmarket provides a wider market reach for merchants and promotes ease of payment for customers. Through its service, any online or brick-and-mortar merchant can accept payment via Bitcoin, regardless of how tech savvy they are. Through its web app, merchants can simply create an invoice with a QR code, which customers can then scan to transfer payments. In turn, the merchants will receive their payment in its Peso value, direct to their bank accounts on the next business day.
---
Started as an ecommerce store in 2013, India's Grofers has since became a logistics service that delivers from these small supermarkets direct to the doors of shoppers. The startup aims to be hyperlocal and fast – delivering from a kirana to a shopper's home in about 90 minutes
---
Founded by a former Xiaomi employee, Daxiang sells condoms for slightly more than what you'll pay for if you get your condoms at a local corner store in China. The company hopes it can distinguish itself by zero-ing in on giving customers what they want, when they want it. It is revealed that the company just closed a series A funding round.
---
Launched in April, Autodeal focuses on giving consumers information on current promotions and deals on brand new cars, motorcycles, and accessories.
---
Startup lists
---
Related startup stories
---
We're gearing up to bring you yet another round of our signature conference series with Startup Asia Tokyo 2014, happening 3 – 4 September 2014.
If you're an entrepreneur, investor, developer or just someone looking to meet and learn from the speakers and companies, get your tickets now.
From now till June 6 2014, enjoy 25% off conference passes with discount code 'superearlybird'.
See you there!
---
Like RSS? There's always our Asia startups RSS feed!