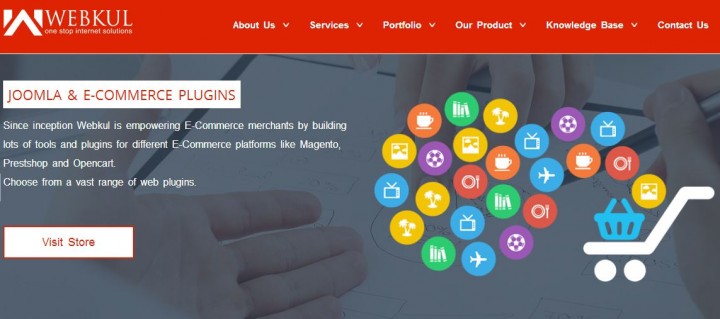 Like many startups in Asia, India-based startup Webkul rose to prominence by bootstrapping its operations. Vipin Sahu and Vinay Yadav, two opportunity-driven developers who share a passion for app development, started WebKul with little more than an idea and a shoestring budget. Despite the company's limited resources, WebKul has now generated over US$1 million revenue and serves more than 25,000 customers globally.
WebKul, which launched in 2010, focuses on creating different open source platforms that allow ecommerce sites to quickly scale and add features. According to Sahu, their current solutions answer the gap that most web platforms – such as Magento, Joomla and WordPress – do not provide. Sahu explains:
We started creating add-ons that will enrich the functionality of the vendor panel on a web platform. Some of these are adding auctions and deals for their products, bulk uploading of photos, and more functionalities. We started by constantly developing open source apps and creating plug-ins for Joomla and Magento.
'Profit is oxygen'
Four years ago, WebKul's founders had only US$650 in survival money to begin the company with. Sahu recalls that regulating this budget was one of the challenges they faced. They started on their own, with limited computers and tools. Nonetheless, as a capability-based startup fresh out of college, the founders believed it was the best time for entrepreneurship. "We had nothing to lose and everything to gain," says Sahu. WebKul has become an avenue to enhance their development skills, and they enjoyed their freedom while experimenting on their products.
But instead of relying on investors, it quickly generated profit from its products through sales and the customization of its modules. Sahu says:
People with initial funding get practice spending money, not earning money. We believe that if you are running a business, profit is oxygen. If you don't earn it, then you will die soon.

There are many instances when our experiments do not turn into revenues, but because the app industry is always looking for something new, we want that kind of freedom. I think if investors will come on board, we will be restricted to do these experiments.
Tripling profits by adding products
Over the course of these so-called experiments, the duo shared their code to developer marketplaces. "As we got good responses and increased demand from our customers, we started developing products for other platforms," says Sahu.
To date, WebKul already has more than 500 web plug-in applications across different platforms, where it gets 85 percent of revenue from the modules sold. WebKul has likewise grown its team to 40 developers.
According to Sahu, 2013 was their best year so far, where WebKul has tripled its revenue and products. It's also the year it reached its US$1 million revenue, a huge leap from US$220,000 revenue in 2012. For Sahu, WebKul's immediate success is its value for customers and continuous learning. He explains:
We are still getting challenges everyday in different aspects such as business development, traffic management, code quality, product scalability, and tons of other challenges. But that's good because people get smarter by practice.

We also do believe that in any business, customer is god. You need to take care of them a lot. Customers may be time consuming, or there are things they don't understand. Still, we should help and support them in every case.
This, together with keeping their team motivated will be centric to WebKul's continuous growth. Following this milestone, WebKul will continue to develop apps for more platforms, where one of its targets is to provide a plug-in for ecommerce marketplace Shopify.