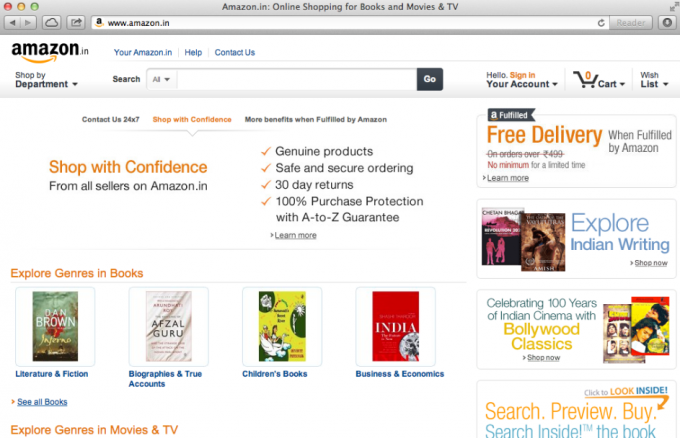 E-commerce in India is heating up today as Amazon (NASDAQ:AMZN) has finally launched its site in India 1 – albeit very quietly. As reported by TheNextWeb, the Amazon India site only sells books for now, and the closest thing we have to a press release from Amazon is its infographic (pictured below).
Amazon looks to be only launching its Amazon Marketplace in India, which is for third-party sellers. So it seems Amazon is still far from having its full, direct B2C service – complete with warehouses – in India. In contrast, Amazon sells directly to consumers in Japan and China (as well as having the Marketplace there too).
Readying up for Amazon India are other e-commerce players like Flipkart, HomeShop18, and SnapDeal. The latter site has just closed a $50 million investment deal with US e-commerce giant eBay.
This makes India the third Asian home for Amazon, after Japan and China.
Last year Amazon launched Junglee.com in India as an e-commerce aggregator and price comparison service. That was also thought to be a test-bed for a full Amazon launch in the country. But it seems Amazon is already quite popular in India, with browser maker Opera noting that the site is the number two e-commerce player (ahead of third placed Flipkart) in India based on the habits of Opera Mini users.
While everyone awaits an official comment from Amazon on its India launch, you can check more information about Amazon's global presence – note Amazon's inclusion of India – in the infographic below:

(Source: TheNextWeb)
---
Currently, Amazon.in is ranked at 3,155 locally and occupies the 24,309 rank globally according to Alexa.