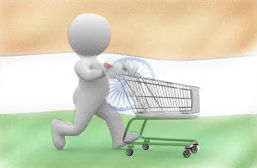 Opera's latest State of the Mobile Web report has some good insights into mobile browsing trends in India. And perhaps one of the most interesting shifts that was observed is that users are increasingly browsing e-commerce sites.
In terms of the top ten categories of sites visited, news is still the top destination for Indians on the web, accounting for 30 percent of total visits. But e-commerce is in second place at 14 percent, which is certainly encouraging for companies operating in the rapidly growing sector. Rounding out the top five categories of sites for India were 'Social Networking,' 'Education,' and 'Travel.'
Opera says that the country accounts for the highest number of Opera Mini users in the world, so even though we're just talking percentages, I wouldn't be surprised if the actual figures turned out to be huge.
Looking at which websites have shown the biggest growth since the same period last year, Opera's figures indicated that Quikr.com has seen tremendous improvement, at least in terms of traffic. Readers may recall that the classifieds site raised $32 million in funding back in May, at which point its CEO noted the importance of diversifying offerings to include mobile.
Other e-commerce companies to show strong traffic growth over the past year (according to Opera's observed numbers) include Flipkart.com, and Alibaba.com, as you can see in the chart below.
Top 15 e-commerce sites for India (Opera)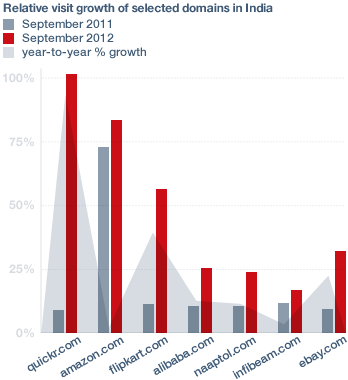 quikr.com
amazon.com / amazon.co.uk
flipkart.com
alibaba.com
snapdeal.com
homeshop18.com
naaptol.com
indiamart.com
infibeam.com
ebay.com / ebay.in
jabong.com
myntra.com
seventymm.com
inkfruit.com
tradus.com