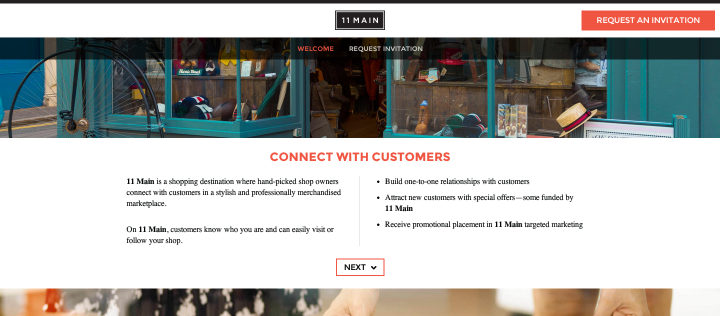 11 Main, the first consumer-facing ecommerce site from Alibaba in the US, announced today it has launched in beta.
At the moment, the site still requires an invitation before users can peruse 11 Main for goods. While we've yet to check it out ourselves, based on its branding and the company's public statements,  it looks like it draws draws inspiration from the personalized feel of Etsy, meshed with the 'anything store' premise of Amazon.
The news comes more than four months after EcommerceBytes discovered that the up and coming business was the fruit of its purchase of Auctiva and Vendio, two companies that sold eBay listing management software. The acquisition gave Alibaba direct access to over 250,000 merchants, many of whom are presumably now listing products on 11 Main.
"At 11 Main, we're passionate about the shops we invite and helping them grow," said Mike Effle, president and general manager of 11 Main, in a statement. "We're constantly introducing new shop owners who represent the diversity of Main Street and featuring their new, amazing products in a beautifully designed experience."
News of the launch comes on the same day as Alibaba's announcement that it acquired UCWeb, makers of one of China's most popular mobile browsers. The company has embarked on a global spending spree in anticipation of its upcoming IPO, sinking cash into China's Guangzhou Evergrande football club, Singapore's state-affiliated postal service SingPost in the span of about two weeks.
See: Here's our roundup of Alibaba's investments in US-based companies