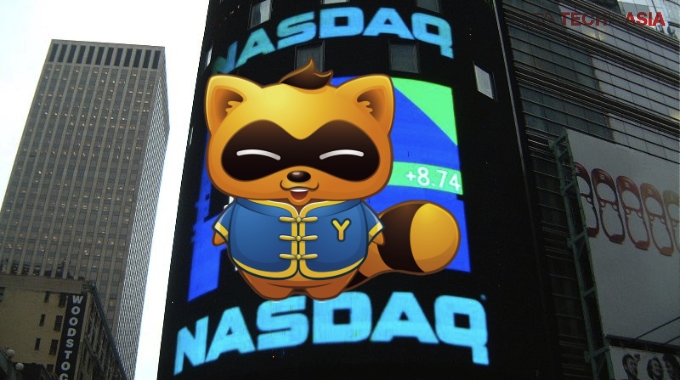 Ending an eight-month drought of Chinese IPOs, the gaming community YY (NASDAQ:YY) is about to hit the tickers at the start of trading in New York. YY's CEO, 'David' Li Xueling, will have the honor of ringing the opening bell shortly, at 9:15am ET. After stating that it hoped to float between US$10.50 and $12.50 per share, YY has just announced that it'll debut at the lower figure, thereby raising $81.9 million on its offering of 7.8 million ADS.
As we outlined earlier this month, YY touts that it's a fast-growing web company with expanding gaming and social services. As well as its gaming platform and Duowan community, its YY Music service looks promising, and the YY Chat service claims 400 million registered users. SeekingAlpha earlier today put all the key stats into these useful two tables: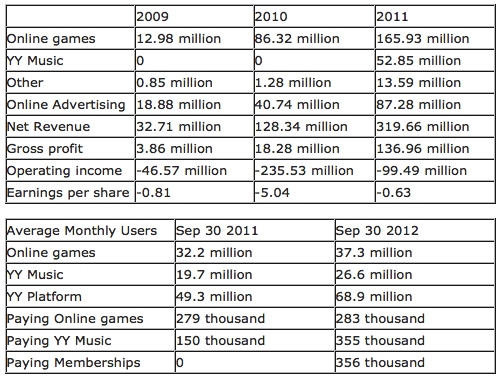 YY is only China's second full US IPO of the year, coming a long while after flash sales site VIPShop (NYSE:VIPS) went public back in March. After initially struggling, VIPShop is now well up on its debut price. But not everyone is smelling roses with VIPShop's progress. China-based analyst Bill Bishop gave this warning on his Sinocism blog that he says also applies to YY's IPO:
VIPShop only got IPO done because two of its VCs bought $20m in IPO. YY's F-1 says existing investors may buy up to $30m of IPO. Retail investors insane to buy into these IPOs.