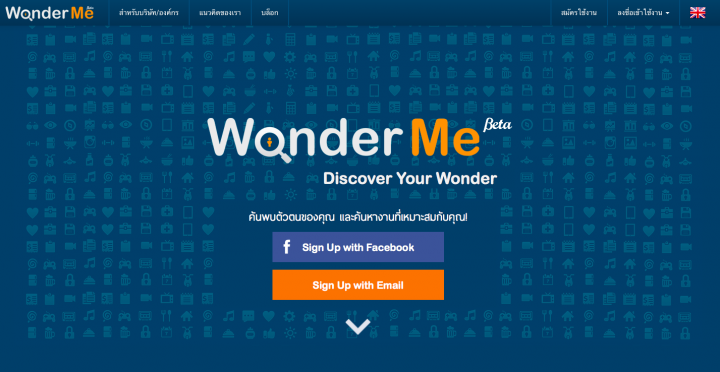 Thailand's economy has suffered in the past few years due to political unrests. But the country is staying afloat. Its GDP is at US$365 billion, which is higher than Malaysia and the Philippines. The country's unemployment rate is only at 0.67 percent.
However, looking at the other side of the coin, Thailand's job market is quite competitive and employers find it tough to hire the right talent. Thailand-based startup WonderMe aims to solve that problem.
The job matching web app matchmakes new graduates with the right job and company based on what it calls 'cultural fit'. Job seekers can discover more about themselves through WonderMe's personality test, job fit test, and skills test, which are designed and tested with real employers and Master's degree students from faculty of psychology Chulalongkorn University.
"Our test are based on famous personality models but adapted to fit today's Asian world," says Parote (Jay) Denskoon, WonderMe's CEO and Co-Founder.
Job seekers can search for jobs that suit them through an "Intelligent Recruitment System" that will match job seekers with various companies in Thailand and Asia.
(See: For those seeking a tech job in China, this site has everything covered)
The startup thinks that traditional resumes don't provide information about job seekers. To address that, WonderMe provides online profile and portfolio building on the website to showcase themselves and allow companies to better evaluate the true ability and experience of that person.
Nonetheless, it's not a one-sided affair. Companies too can build their profile page and conduct an internal test to discover their business culture and communicate it to the job seekers who visit the site. The startup believes that this can help companies save time and cost in recruiting because its algorithm can suggest the best candidates to them, and companies can see the candidate's personality, skills, expertise, and experience.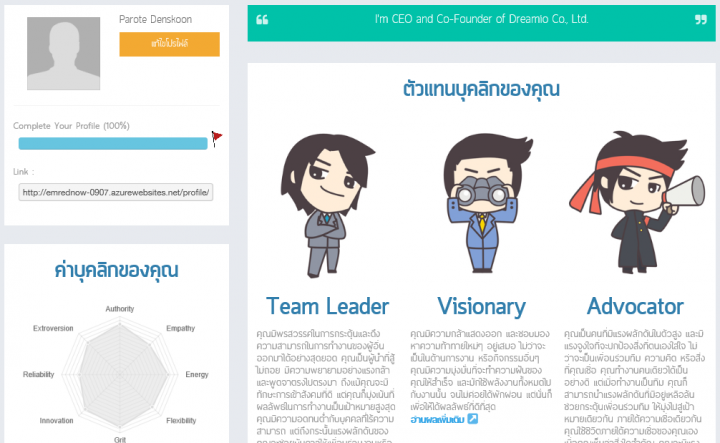 Preventing resume-spamming
The site features a "WonderPoint System" which allows job seekers to accumulate points based on their activity on the site. Users expend points by applying for jobs. Jay explains the logic behind the system:
Since we believe that there are just a few "right" jobs for each person, job seekers have to wisely spend these points to apply for jobs. [We do this] in order to prevent job seekers from spreading their resumes as seen in other job board sites, which results in company HR having a headache in screening those who don't actually fit with the role.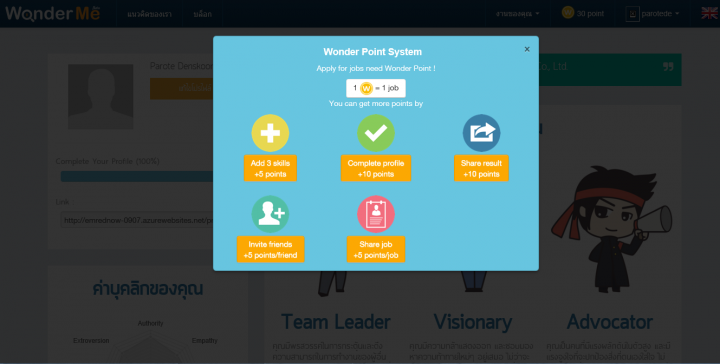 (See: This new startup wants to be both Indonesia's LinkedIn and JobsDB)
The job matching space is quite crowded in Thailand. WonderMe has quite a few competitors from big brands such as Linkedin, JobTopgun and Good.co to a smaller startup like JobTalents, which is also based in Bangkok.
WonderMe's pricing model is similar to other jobs sites – companies pay to post a job or recruit a person from its database.
The six-person startup has received a first prize award from accelerator SIPA Angel in the City and was a runner-up in AngelHack Bangkok.