So according to Sina Weibo's recent white paper in Chinese, there are over 130,565 enterprise accounts on Sina Weibo and we know that restaurants dominate a huge part of it. But are the laowai (meaning foreigners) using Sina Weibo for business? You bet. And the U.S is so far dominating this space. The total count of overseas enterprise weibo accounts stands at 1060 since the end of last February [1]. 208 of them are American companies and 178 of them are Japanese companies. The rest of the breakdown can be found below.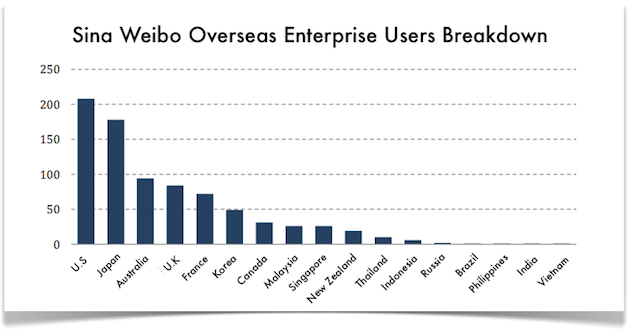 While I do agree that 1060 overseas enterprise Weibo accounts aren't too many, it's a good sign that Sina Weibo is able to attract at least some overseas entities – many of them of a very high calibre, in fact. Sina claims that there are 143 Fortune 500 companies are on Weibo. If these Fortune-listed companies are considered early adopters, then many other companies abroad might follow their lead.
Sina Weibo is available in English on iOS but not on the web. I was told at a recent Net Impact conference in Jakarta that Sina Weibo is geo-targeted with its English interface available upon detecting a U.S IP. But our own test doesn't seem to reflect that. So as far as we can see, Sina Weibo doesn't have an English language web interface [2]. It is only available in traditional and simplified Chinese.
Nonetheless, the language barrier hasn't stopped these companies from using Sina Weibo, though. But much of the credit has to be given to the local agencies who are helping multinational companies to leverage Weibo for promotional campaigns, such as the one by Dove which I recently wrote about. The real-name verification regulation also doesn't seem to affect overseas or local users just yet. It's getting strange, as my colleague Charlie described here and here. Until now, I'm still able to weibo as usual, without having to reveal any of my personal data.