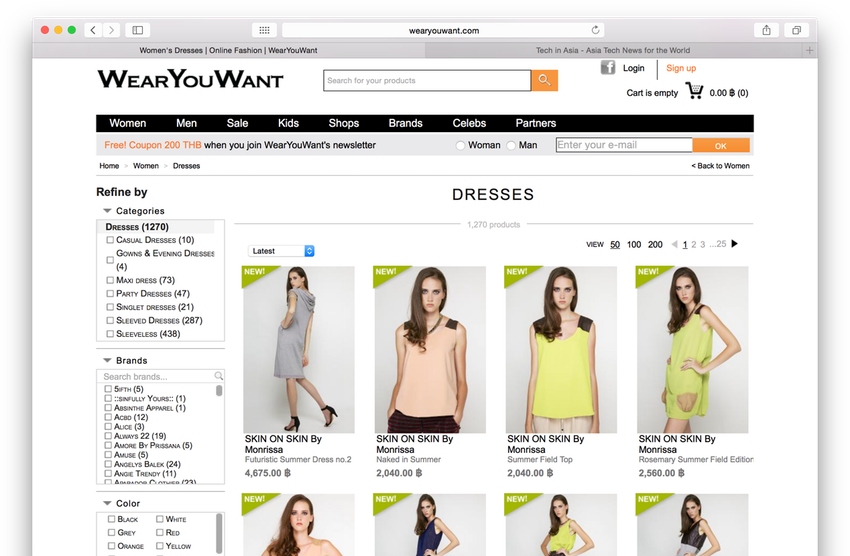 Fashion estore WearYouWant has secured US$1.5 million in funding to help the startup grow its business in the fledgling Thai ecommerce market. This series A funding is led by Digital Media Partners (also a seed round partner) along with Japan-based OPT SEA. Singapore-based IMJ Investment Partners and co-founder Julien Chalté also contributed.
WearYouWant currently has 12,500 clothing items for women, men, and kids from 450 brands. They're mostly local fashion brands, along with a few well-known global ones such as Adidas and Vans. There's also make-up from popular labels like Dior.
The startup's co-founder, Martin Toft Sørensen, who's based in Bangkok, says the team plans "to roll out WearYouWant regionally during the next six to 12 months" with a focus on Southeast Asia – which explains the choice of Southeast Asia-oriented investors in this latest round.
See: Ditch that designer bag and crowdfund local fashion brands instead
While Sørensen can't reveal the kind of turnover the estore's seeing, he says that revenue's rising at a three-digit growth rate right now compared to the start of 2014. It has set a revenue target of US$6 million for the second half of 2015. WearYouWant currently sees 1.5 million monthly site visits. The startup launched in 2011.
The site is an open marketplace for merchants, which is a particularly popular business model for ecommerce in Southeast Asia. It's similar to Rakuten's Thai site, Tarad, which also sells clothing as part of its vast product line-up. A closer rival to WearYouWant is Zalora, which has the financial clout of the Rocket Internet empire. There are several other specialist startup sites in this fashionable niche in Thailand.