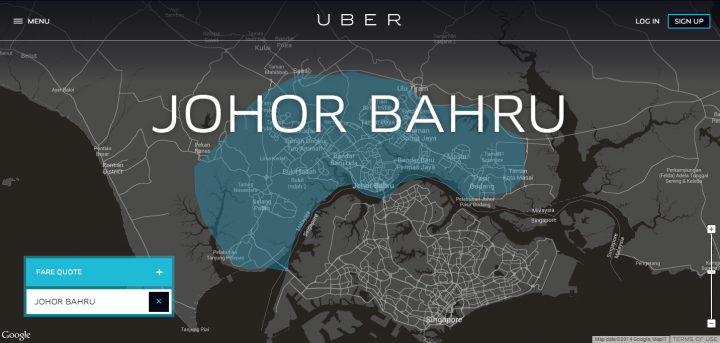 Uber made its way into Malaysia 10 months ago with its first stop in Kuala Lumpur. Today, the luxury car service has arrived in Johor Bahru, albeit in test phase. The service will only be available in the metro area and surrounding neighbourhoods for now, but it has promised to provide additional rides in the near future.
As when they first entered Kuala Lumpur, Uber will be entering into a relatively crowded market in Johor Bahru. Current incumbents in Johor include locally-based Grabtaxi and TaxiMonger, as well as Rocket Internet's EasyTaxi.
With the launch of UberX in in Kuala Lumpur just a couple of weeks ago, the question is whether the low-cost range will make its way to Johor as well. The mass-friendly option would certainly help Uber to get a foothold in the competitive space. Uber has declined to comment on this.
Their current efforts to win the market include offering its users ten free rides on Uber till the end of August, and they are also looking to hire a community manager to build up Uber Johor.
Uber has been relatively popular in Kuala Lumpur so far. However, Anita of RamRais & Partners has noted on Digital News Asia that they might eventually run into problems with local competition laws. Most recently, the service has run into trouble with the Indonesian government, who is looking to impose a ban on them. Its continued expansion into Johor, though, sends a message that the team is confident of marking its presence in the country.