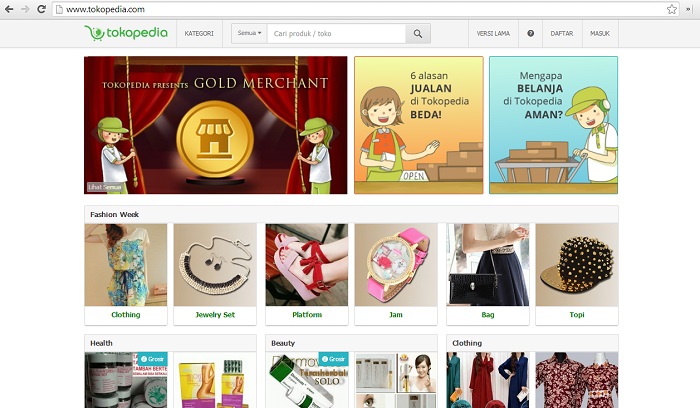 (Update: William Tanuwijaya gives us more information about the new features for merchants.)
Indonesian online marketplace Tokopedia1 today launched its Gold Merchant program, where store owners can subscribe to get special features.
When you join the program, you differentiate your store with a golden badge and can add one user for free to become an admin for your store. Admins may reply to messages or reviews, manage the store, and monitor transactions with access given by owners. For safety reasons, only the owner is able to withdraw money from all transactions.
All store owners on Tokopedia also can sell as many products as they want and showcase the products in different categories, monitor market demand, and insert the location of their offline store. Golden merchants can create 150 groups of products within their stores compared to normal seller's limit of 50 groups.
Last August, Tokopedia celebrated its fourth birthday and revealed that it sold 13.4 million products through its escrow platform in the past year.
Finally monetizing
For four years, Tokopedia has been relying on its investors. East Ventures invested in 2010, Cyber Agent Ventures invested in 2011, Netprice in 2012, and another investment this June led by Softbank Venture Korea.
The subscription fee as a gold merchant starts from IDR 100,000 ($10) a month for a minimum three months, up to a maximum two-year subscription.
On a related note, CEO and co-founder William Tanuwijaya will be taking one of the hot seats at our upcoming Startup Asia Jakarta conference on November 21 and 22. Beside digging into his experience on building Tokopedia to become the Taobao for Indonesia, we will definitely be asking how merchants have so far responded to its premium service. If you haven't grabbed your tickets, you can do so here.
(Editing by Paul Bischoff, Willis Wee, Vanessa Tan)
---
East Ventures invests in Tokopedia and Tech in Asia. See our ethics page for more information.