Indonesia's C2C marketplace Tokopedia has concluded a financing round led by Softbank Venture Korea with previous investors CyberAgent Ventures and East Ventures (1) also participating in this round. No financial figures were disclosed but co-founder and CEO William Tanuwijaya told us:
With this investment size, I can take a break from fundraising. If you noticed, Tokopedia got funding consistently once every year. 2010 (East Ventures), 2011 (CyberAgent Ventures), 2012 (Netprice), and 2013 (Softbank)."
The fresh funds from Softbank will provide Tokopedia with the ammunition to focus on building the product, expanding the team, and also doing marketing. Some of you might also know that Softbank was one of the early investors at e-commerce giant Alibaba. So it can surely provide some e-commerce know-how to the team at Tokopedia. Daniel Kang COO at Softbank Ventures Korea elaborated in a statement:
As a close witness to enormous success of e-commerce in Korea, Japan and China, we believe Indonesia has a strong potential for online marketplace. After reviewing Tokopedia for two years, our team has strong conviction that Tokopedia could be Indonesia's Taobao. Softbank Ventures Korea will support Tokopedia not only by providing growth capital but also by handing over experiences in this advanced market.
In our last interview with William, he revealed that Tokopedia has 770,000 active listings. Its gross merchandise value (GMV) in 2012 grew by 686 percent compared to the year before, with at least 53 percent repeat buyers each month. When asked about where the buyers come from, William said that about 40 percent of the merchants are from Jakarta. But for buyers, only 17 percent are from Jakarta. He also sent me the following charts to illustrate Tokopedia's buyers and merchants city breakdown.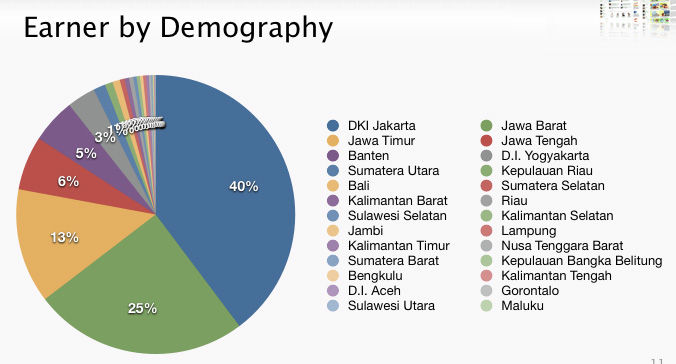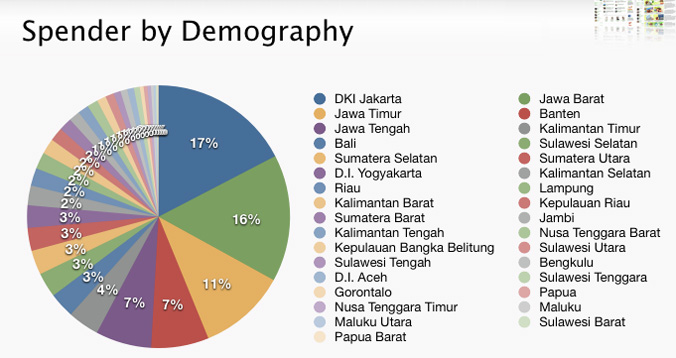 William — a keen admirer of Alibaba and its founder Jack Ma — said in the statement that he hopes to repeat Alibaba's success story in Indonesia. He hopes his venture will bring a huge positive impact to society, creating one million jobs in Indonesia over five years.
---
(1) Disclosure: East Ventures is an investor at Tech in Asia. See our ethics page for more information.