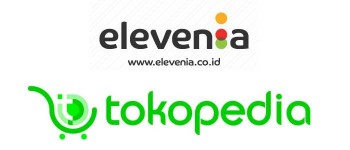 There has been some confusion in the last couple of weeks for merchants of Indonesia's marketplace site Tokopedia 1. These merchants have been contacted over the phone and email by new rival Elevenia, saying that Elevenia is a partner of Tokopedia and encouraging the merchants to sign up on Elevenia as well.
"From my side, the unethical part is not stealing the [merchants] – the unethical part is luring our merchants with false information that Elevenia is a Tokopedia partner while offering a IDR 200.000 [US$17] cash reward in the stealing attempt," Tokopedia CEO William Tanuwijaya explained to Tech in Asia this afternoon.
After learning of Elevenia's advances, Tokopedia made an announcement via SMS and its social media pages saying that the ecommerce company only announces such tie-ups through official Tokopedia channels. Some Tokopedia merchants then posted comments on Tokopedia's Facebook post confirming that they had indeed been contacted by Elevenia, trying to lure the online merchants to set up shop on the new site.
Internal confusion
A Tokopedia team member called Elevenia's call center and was told by the representative that Elevenia is working together with Tokopedia in terms of sharing "data", whatever that means. Tech in Asia also called Elevenia's call center twice today to clarify the matter. The first representative told us that there's no cooperation between Elevenia and Tokopedia, and admitted that they use Tokopedia as a reference. But the second representative told us that Elevenia has a cooperation in place with Tokopedia for the IDR 200,000 ($17) merchant acquisition promotion. But now that the promo is over, they are no longer working with Tokopedia.
Achmad Zaky, the founder of marketplace site Bukalapak, says that Elevenia tried to acquire some merchants from Bukalapak too, but the upstart site did not make any false claims, as is allegedly the case with Tokopedia.
An Elevenia customer representative told Tech in Asia that the estore only has cooperation agreed with Tokopedia, and not with any other ecommerce sites in the country.
Battle for online sellers
Madeleine De Guzman, Elevenia's vice president of marketing, confirms to Tech in Asia that there's no cooperation between Elevenia and Tokopedia. She said she's confused how this could happen, especially when she's the one handling Elevenia's customer care division. She explains that she told the team of the difference between Elevenia and other ecommerce sites like Tokopedia and TokoBagus, but did not say that the company has a specific deal with Tokopedia.
De Guzman said that there is a IDR 200,000 ($17) promotion program for merchants who signed up in the week prior to Elevenia's launch, and it was available to all online and offline merchants, not only for the ones from Tokopedia. The team offered other promos for merchant acquisition prior to the launch, such as commission fee deduction and a motorcycle for the top seller referrer.
Launched on March 1st, Elevenia is the newest marketplace in Indonesia, battling rivals both for customers and online merchants. Other rival sites in this field include Rocket Internet's Lamido, eBay's Blanja, and Qoo10.
(Editing by Steven Millward)
---
Disclosure: East Ventures invests in both Tokopedia and Tech in Asia. See our ethics page for more information.↩