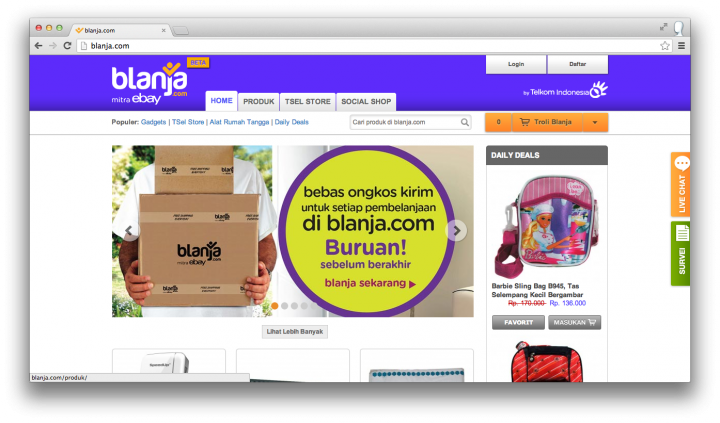 Back in July, Tech in Asia received word that eBay would open its marketplace in Indonesia this year. Now, the moment has finally arrived as eBay and Telkom Indonesia quietly roll out their joint-venture project called Blanja.com. Savvy observers will note that the website's name resembles that of BNI bank's own e-commerce shop, Blandja.com.
Blanja's website is currently accessible in beta mode and has three main categories: products (which lists out all items from Tsel Store and Social Shop), Tsel Store, and Social Shop.
Tsel Store sells gadgets bundled with Telkomsel offers, while Social Shop serves as Blanja's C2C marketplace. The entire website is in the early stages at the moment, with only 680 items listed for sale.
Marketplace unfriendly for small businesses?
The C2C social shop doesn't have eBay's auction feature, despite being partially under that firm's management. Instead, vendors list fixed prices for goods and customers make purchases without negotiations or bidding.
In addition, those who hope to be listed as merchants need to first obtain a business permit issued by the government, and they may only sell new items.
This, in theory, could put Blanja at a disadvantage if it hopes to recruit vendors. E-commerce rivals Tokopedia and BukaLapak allow their merchants to sell both new and used items, with or without business permits. This allows both sites to attract a large number of sellers, who thereby offer a wider variety of products, which ultimately attracts more customers.
It's possible that Blanja has implemented these restrictions out of concern for safety. Even as e-commerce practice in Indonesia continues to mature, there are still wily sellers who look for ways to dupe victims via online marketplaces. Blanja's merchant filtering might provide buyers with an increased sense of security, which could help the website attract more discerning consumers or people who've been burned in the past on Tokopedia or BukaLapak.
On the other hand, the escrow payment system used on BukaLapak and Tokopedia works quite well at the moment, so it remains to be seen if this heightened security will prove beneficial or harmful to Blanja.
Monetizing
Blanja currently lets vendors set up shop for free, and takes no cut from its transactions. While it hasn't yet implemented any monetization mechanisms, on its terms and conditions page, the company states that in the future, it might start charging merchants commissions, or offer value-added features and services for merchants.
Tokopedia recently introduced its first attempt at monetization by offering gold seller benefits while BukaLapak's services remain free for all users.
In order to boost sales, Blanja currently offers free shipping to merchants and sellers in Jabodetabek, Surabaya, and Bandung. This is similar to how Naspers' Multiply promoted its services before it entered the deadpool.
Tough competition
Customer service representatives say that Blanja has been live since September last year, and it plans to make a more public announcement about its presence next month.
It looks like 2014 will be a year during which e-commerce marketplaces duke it out over market share. Blanja, Tokopedia, BukaLapak, and Rocket Internet's Lamido will all fight to attract buyers and sellers. And let's not forget that Indonesia's biggest C2C forum Kaskus also plans to enter the battlefield.
eBay has another joint venture operating in Indonesia: B2C and C2C marketplace platform Qoo10.
(Editing by Josh Horwitz and Paul Bischoff)