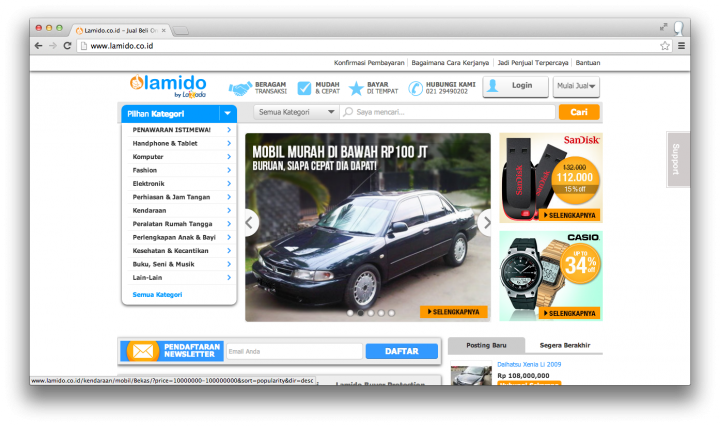 Rocket Internet loves e-commerce businesses and now the team has quietly rolled out a C2C marketplace for Southeast Asia by the name of Lamido.
Just like C2C marketplace rivals Tokopedia and BukaLapak, Lamido also facilitates transactions by offering escrow payments to users. But Lamido will be the first C2C marketplace to offer cash-on-delivery (COD) and an auction feature in Indonesia.
Lazada recently rolled out its own marketplace feature, but what differentiates that from Lamido is the scale of these sellers. Big sellers touting the newest products would set up shop on Lazada while small and medium-sized sellers fit better on Lamido. The team admits that there will be some item overlap between Lazada's and Lamido's marketplaces.
Lamido managing director Giacomo Ficari says that Lamido will showcase Lazada's items on its site as one of many sellers and will not give any special treatment to the sister company.
Why Rocket believes in Lamido
With Tokopedia and BukaLapak well-established in Indonesia, what makes Rocket Internet think there's still place for one more C2C marketplace in the country? Ficari gave Tech in Asia three reasons.
First, Lamido's ties with Rocket internet and Lazada give it a boost despite its latecomer status. Lamido shares infrastructure with Lazada Indonesia for logistics, operations, and other technical know-how. It will share Lazada's vast funding resources. Furthermore, parent company Rocket Internet has similar C2C marketplace ventures in other countries in the form of Kaymu, so both teams can also share some expertise in that field.
Second, Lazada Indonesia managing director Thomas Damek – who also helps with Lamido's operations – emphasizes that Lamido's COD payment option has proven to be effective for both Zalora and Lazada in Indonesia. He explains that users can be put off from purchasing if they have to leave their computers to input their e-banking credentials. With COD, users can immediately make their purchases without ever leaving their computers, while also guaranteeing they can see the product before having to physically hand over cash. As a result, COD helps consumers unfamiliar with e-commerce get accustomed to buying goods online.
And third, as a data driven company, Lamido offers business intelligence to power sellers every month. Moreover, the team doesn't just give data and statistics to these sellers, it will also help explain and educate sellers on how they can improve sales and grow their businesses.
Monetization

Right now Lamido remains free for merchants, but it intends to monetize through ads, premium listings, and commissions next year. Rival Tokopedia recently decided to monetize its platform with premium level sellers after four years of operations while BukaLapak remains free for all. Indonesia's biggest forum Kaskus has revealed its intentions to open its own marketplace soon, and could launch as soon as tomorrow during the company's 14th anniversary. Of course there's also eBay to consider here soon.
Ficari and Damek say that Lamido's focus right now is to offer the best user experience by providing quality products, quality merchants, and the best prices for available items.
It took only one month for the team to decide that they would build Lamido from the ground up until its soft launch in September. After two months, the site now has garnered 10,000 products and the team is confident the e-store will have 30,000 products by the end of this year.
(Editing by Josh Horwitz and Steven Millward)
---
This post was originally published on our new Indonesian site Tech in Asia ID, which you should totally bookmark and follow on Twitter and Facebook now.