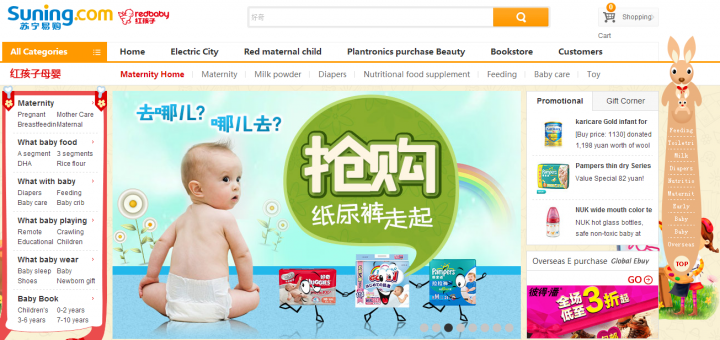 When it comes to their kids, many Chinese simply don't trust domestic brands. After Chinese milk and baby formula was found to be contaminated with melamine in 2008 and toys covered in lead-based paint were traced to China in 2007, their fears are not unfounded. Safety concerns over childcare products led to a massive surge in demand for foreign-made baby goods.
As a result, China's grey market for overseas childcare products is massive. It even led to a sizeable smuggling trade. Smugglers stuff suitcases full of infant formula and milk powder from Hong Kong and other border crossings, which are then often sold on Taobao. This drove up the price of these products so high in Hong Kong that authorities started jailing the smugglers.
In light of this, Suning today launched a special section specifically for overseas childcare products on Redbaby, which it bought in January this year. It sells everything from Huggies diapers to Fisher Price stuffed animals to Nestle baby formula. The suppliers come from the Netherlands, New Zealand, Korea, Hong Kong, and a few other places.
After Suning bought the struggling Redbaby, the childcare B2C outlet vowed it would make a strong comeback, projecting $500 million in sales revenue by the end of the year.
Suning and Redbaby aren't the first to try and capitalize on this market. Other online stores known in China for selling childcare products include Ymatou, Amazon.cn, and Haitaocheng. QQ Tech reports that baby products are the second most shopped for items online after consumer electronics.
(Source: QQ Tech)
(Editing by Josh Horwitz)