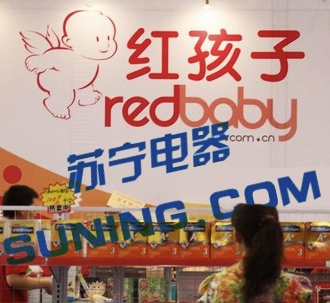 In September of last year, the once highly lauded online store Redbaby, which specializes in baby and maternity items, was bought for the bargain price of $66 million by one of China's top retail chains. It was a hasty exit for Redbaby as it struggled to stay alive in China's costly and fierce B2C e-tailing sector. Now Redbaby's new parents, Suning (SHE:002024), are sustaining the site while also gradually integrating its babycare products into Suning.com's own fast-growing online mall.
Now Redbaby is looking to the future and has set its sights on 3 billion RMB (nearly $500 million) in sales revenue by the end of 2013. That's three times higher than the site's figure for 2011.
So, after a tough couple of years that culminated in its apparently life-saving acquisition, Redbaby CEO Li Bin told Chinese media yesterday that he's very optimistic of solid growth, with one million new users added in the previous quarter. Plus, having previously laid off 15 percent of staff, the newly-formed subsidiary site plans to slightly increase personnel up to 3,000 staffers.
Other benefits will come as Redbaby and Suning integrate more closely, saving on expenses such as warehousing and logistics. The wide range of babycare products will also boost Suning's e-commerce site as the brick-and-mortar chain battles with more established online malls such as Tmall, 360Buy, and Amazon China.
Perhaps this will inspire other major e-commerce players to snap up some smaller indie rivals in 2013.
(Source: Xinhua – article in Chinese)