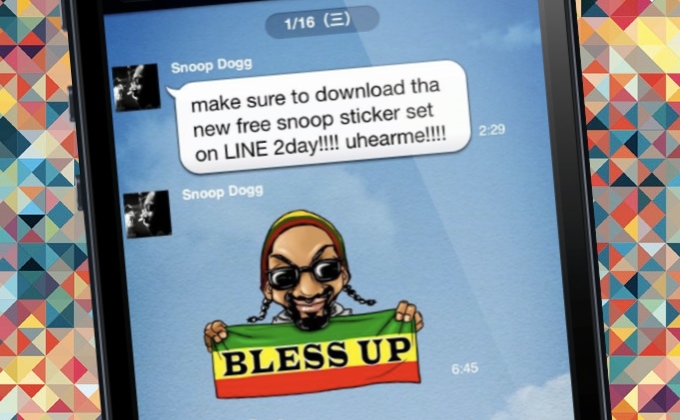 Line app experienced crazy growth last year, and looks set to surpass 100 million global users sometime this month. To hit that milestone, and to get onto the smartphones of more kids in North America, NHN Japan has persuaded the rapper Snoop Dogg to give the app plenty of shout-outs. Not only that, Line app now has a range of Snoop Dogg virtual stickers that are available for download (pictured above).
Snoop Dogg has been promoting – or pimping – Line via Twitter to his 10.4 million followers, shrewdly using a couple of corporate-approved hashtags:
make sure to download tha new free snoop sticker set on tha #LINEapp 2day!!!! uhearme!!!! #expressmore

— Snoop Dogg (@SnoopDogg) January 15, 2013
If you follow Snoop within Line, you'll notice him making the same pitch there.
When Line app reached 70 million users back in October, NHN Japan revealed that just over half of them (about 37.4 million) were overseas. Anecdotally, it would seem that most of those are scattered across Southeast Asia, particularly in places like Thailand and Taiwan (and thanks to Taipei-based @Tortue for the screenshot).
So Line app clearly needs a bit of help in western markets, and the Snoop buddy-up should help quite a bit in the long-term battle against Whatsapp and Kik. Line also has plenty of strong competition from this region in the form of KakaoTalk and WeChat, the latter of which just hit 300 million registered users.
Line app recently enlisted some other all-singing, all-dancing marketing help in the form of Korean pop star Psy, of invisible horse-riding fame.