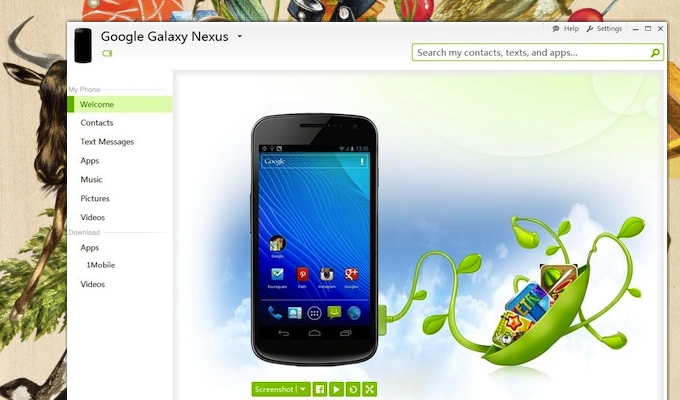 In some people's eyes, Android has always had a missing link. Or a missing sync. Namely, a desktop-oriented way to manage your phone's apps and music, rather like iTunes. So here's a new contender from a startup in Beijing. The third-party Android app store and sync management app Wandoujia is going global this month, and has soft-launched an English version called SnapPea.
Currently, SnapPea has an app for Windows (pictured above) that lets Android users handle their contacts, SMS, apps, music, pictures, videos, wallpapers, and e-books. This way, says the SnapPea team, Android fans can save themselves their limited or slow data plans, and rearrange stuff on their phones more easily on their laptops or desktops. The SnapPea app store is embedded within the Windows app, and has lots of free app downloads that are sourced from its content partner, 1Mobile.
SnapPea product manager Kai Lukoff, who's based in Beijing along with Wandoujia's full team of "70 employees and two cats," tells us that the app is designed to be your ultimate Android companion. He explains:
SnapPea is designed for Android users who're tired of searching for their phone's content scattered across various mobile apps and the web. Google Play, handset manufacturers, and cloud services all address pieces of the puzzle, but SnapPea brings it altogether in one program.
He adds that the startup has spent "thousands of hours" making sure that SnapPea – and Wandoujia for Chinese users – supports syncing with "over 1,000 different Android phones and tablets" via USB or wifi.
The phone manager app could be a replacement for Google Play in instances where folks don't like doing all their app updating in the cloud and on their mobiles. That's part of Wandoujia's success in China, where few buy into the whole Google ecosystem, explaining why there are so many third-party app stores in the country [1]. Or for some people, SnapPea could be a companion to Google Play. For example, I could use it just for whacking a bunch of music playlists onto my phone (thanks to SnapPea recognising my iTunes library) and nothing else. Indeed, that's how I use DoubleTwist now, the American-made app and music store for Android.
In China, there are already at least three Android-to-PC sync tools out there: Wandoujia's, 91Mobile's, and Tencent's 'Android Assistant' that we looked at last year. There's even a localised clone of iTunes for iOS users who want to avoid Apple's system and maintain a jailbreak at the same time.
It's good to see a Chinese startup go global – an all-too-rare thing – so we'll follow the progress of SnapPea this year. Get the SnapPea app for Windows from its homepage, or follow the team on Twitter.
---
In that article from last year, I gave Wandoujia the English moniker "PeaPod." But now that the startup has picked itself a better name, you can ignore that!  ↩