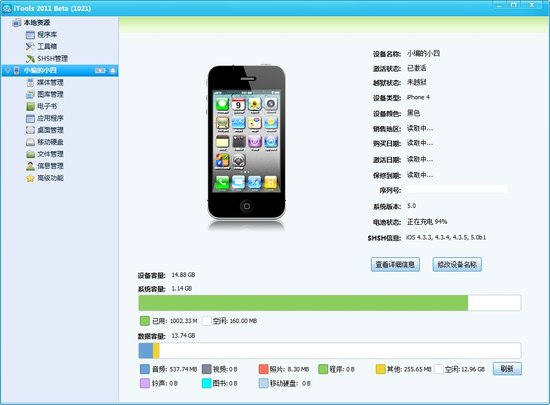 Owners of iPhones, iPads, and iPod Touches have a fairly new desktop app for Windows called iTools, which can be used instead of Apple's own iTunes. It's possibly the first-ever unofficial method of fully syncing-up your Apple (NASDAQ:AAPL) mobile devices – and it positively encourages you to jailbreak and snag some pirated apps. Of course, jailbreaking is perfectly legal and can be a gateway to some neat features and customizations, but app developers won't be too amused by the implications of losing yet more revenue to pirated apps.
Made by a web company in Shenzen called ThinkSky, the iTools app is bound to raise the ire of Apple's lawyers. The app is now in the early public beta stage, and recently updated to support the newest iOS 5, and the recently-launched iPhone 4S.
The iTool app, of course, could be used legally – in the same way that iTunes can be used for pirating apps, depending on how you've set up your jailbroken Apple device. Still, the iTools site gives some advice to users on how to spot a pirated app that's ready to use, and why they should not pirate/share their own apps (because one's own email address is embedded into them).
Jailbreaking can be done within the iTools app itself. I'm not sure how that's being done, but the process looks similar to that of redsn0w, using the same method of entering DFU mode (pictured above) to initiate the jailbreak sequence. The Shenzhen-made app also stores your SHSH blobs, which might be needed if you ever have to downgrade a version of iOS for some reason.
Google's (NASQAQ:GOOG) Android Market has long had lots of alternatives, which are easier to implement given the much more open nature of Android that allows for the sideloading of apps and the use of numerous app stores, such as the top eight Chinese Android app stores I listed before. Web giant Tencent (HKG:0700) has taken it one step further by making a sort of 'iTunes for Android' for finding and syncing apps.
iOS, however, is tightly locked down to Apple's ecosystem. That's why iTools is almost certainly the world's first total iTunes replacement.
Inevitably, jailbreaking is a worldwide phenomenon. Here, China's grey-import iPhones come unlocked and already jailbroken by vendors for the 'convenience' of local users.
Try out iTools (Windows-only; and Chinese-language only) by downloading the app from its homepage.
[Source: QQ Tech news – article in Chinese]