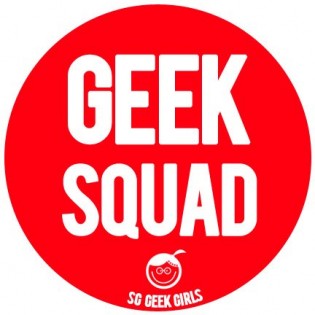 Over here at Tech in Asia, we're greatly encouraged by the number of females joining the technology and startup scene. We're even more appreciative of local initiatives like Singapore Geek Girls, an organization for females that aims to help them mentor, connect, and collectively share information with one another.
The organization was first formed last January 11, and to date has around 250 people attending its events, with approximately 200 females in the pool. But the SG Geek Girls, which is run by a group of eight volunteers, isn't just stopping there. Co-founder Joyce Huang tells us that the team is hoping to reach out to 1,000 ladies for its events in 2013, on top of expanding its online reach through a series of interviews with females in the technology scene.
Happily, the initiative is attracting a lot of attention from younger female entrepreneurs, including a 12-year-old girl, Roopal Kondepudi, who attended one of its HTML and CSS Geek Squad Drills. Tan Yan Ling, who heads marketing and partnerships at SG Geek Girls tells us:
[…] Her objective was to make a website with her sister. She was really enthusiastic, and [attended the sessions with her parents.] She wrote to us [via email], which I presume that she got it from the write-up on our workshop in [local newspaper] Straits Times.
In its first year, SG Geek Girls saw a good mix of female entrepreneurs and venture capitalists sharing their startup experiences and funding advice. Speakers included AllDealsAsia.com founder Goh Yiping, Soldgers co-founders Angeline Tham and Tian Qiuyan, PlayMoolah founder Min, and Monica Tsai from SingTel Innov8. The year concluded with a sharing session on the US entrepreneurship scene by Jacqui Chew, principal at iFusion Marketing, who has lived in the States for 25 years.
To kick-start the new year, SG Geek Girls will be co-hosting Janice Fraser, co-founder of LUXr, for Lean UX Week this January 25 to 27. Friends of SG Geek Girls will also be delighted to know that the organization will be having two technical workshops this year, focusing on HTML/CSS, and JavaScript.
Joyce also hopes that the workshop will encourage more females to build more web projects and boost their confidence in their technical capabilities. In essence, SG Geek Girls aims to be a platform for all to come forward, exchange skillsets, and develop practical skills to aid in their day-to-day activities without having the fear of sounding silly.
In fact, it also has a new sister chapter in Indonesia, called Indonesia Geek Girls headed by Sissy from Petshop Box Studios, whom the Singapore team met during our Startup Asia Jakarta event.
And for those who are based in Singapore, you might wish to attend SG Geek Girls's 48-hour hackathon come June, which is open to all (both genders, yes) to attend. Joyce adds:
[We] will spice things up with lightning talks and have some surprises in store for our female audience. [..] With this, [we] hope [to] consolidate the efforts of the [attendees of] our workshops, [for them to] practice their development skills. Also, we just want an excuse to throw a big party and have fun!
For more information on SG Geek Girls and its initiatives, you can also visit its website here.