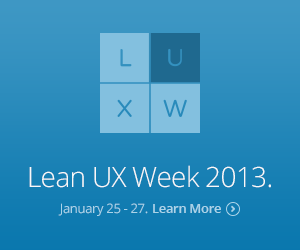 As a startup founder, what do you know about building a good user experience? We all know how important our customers are, but before we can attract customers we need to know how to identify who they are, how to cater our features to their needs, how to track metrics to be sure they're interested, etc.
The inaugural Lean UX Singapore 2013 is a workshop you might wish to attend if you are keen these topics. Jointly organized by local design firm Minitheory, National University of Singapore (NUS), Singapore Geek Girls, and Girls in Tech Singapore, the event hopes to educate startup founders in Singapore on the best practices of Silicon Valley, in particular in the area of user experience design.
Janice Fraser, co-founder of LUXr, will be speaking at the workshop. Janice is also the founder of Adaptive Path, an experience design consultancy which sold one of its products to Google.
According to the Michael Chen, the executive producer of Lean UX Week Singapore 2013, each day of the workshop is different and will be targeted to a different audience. The first day is a closed-door event, only open to aspiring student entrepreneurs and focused on educating them about starting a business. The next two days will be open to the public and targeted at both mentors and geeks.
The event will be taking place January 25 to 27. For startup founders who are keen to attend the workshop and would like to find out more information about the schedule, you can check out the website here or purchase your tickets here.