Well, that didn't take long. Just days after the announcement of Alibaba's huge investment in Sina Weibo, Taobao advertisements have already started popping up on the microblogging service. According to Marbridge Daily, the ads include both a long banner ad of products at the bottom of users' news feeds and a "hot commodity recommendation" on the side of users' news feeds, although in practice I've only seen the former so far (pictured below).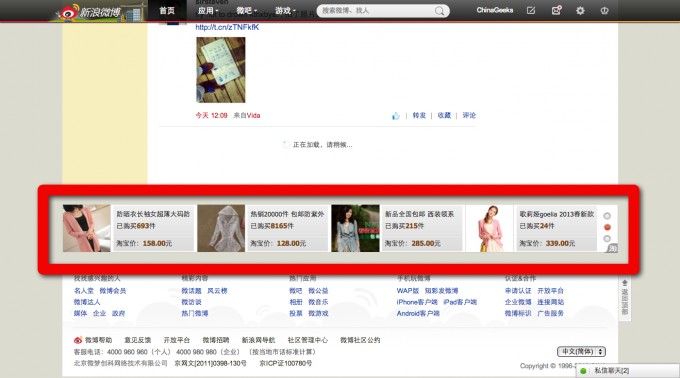 At present, the ads don't seem to be very targeted. For example, the ads pictured above, on my own personal weibo feed, were exclusively for women's clothing items (which, as a man, I don't have much use for). So it certainly seems as though, at least for the moment, Alibaba probably hasn't started thoroughly mining Weibo's mountain of data yet. But we're confident that it will, and Weibo users should get ready to start seeing more carefully targeted ads as time goes by.
In the meantime, it will be interesting to see if these new ad placements have any effect on Taobao's sales numbers.