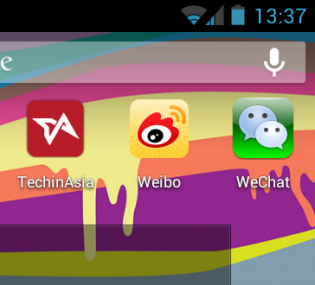 Chinese web company Sina (NASDAQ:SINA) wheeled out its Q4 and full-year 2012 financials last night, revealing slight growth in net revenues and advertising revenues – but no end to rising operating costs for the company and its popular Sina Weibo social platform. The company explained:
2012 was a year of investment for Sina. We are delighted that Weibo continued to gain popularity and Weibo monetization was off to a good start. In 2013, we will continue to improve user experience and expand the scale of Weibo monetization, while [we] turn our focus to mobile internet for all of our major product lines.
Sina chairman and CEO Charles Chao said during the earnings conference call, as spotted by TheNextWeb, that the company is not worried about the messaging app WeChat. Though WeChat and Weibo are different beasts, there are areas that clash, such as WeChat allowing users to follow brands and celebrities.
Charles Chao did admit that Sina Weibo – which has over 400 million registered users – had seen a dip in the amount of time that users were spending on the Twitter-like service. He called that reduction "inevitable", and maintained that Weibo was more established than WeChat (which is called Weixin in Chinese), and generally mainstream enough to compete with the 300-million-user-strong messaging app.
(See: WeChat vs Sina Weibo for Business in China – Infographic)
Indeed, Sina seems comfortable enough with WeChat as a rival to Weibo that the Android version of the Sina Weibo app recently added a dedicated 'share to WeChat' function.
Sina Q4 financials
Going back to the newly-revealed numbers, Sina posted net revenues of $529.3 million for full-year 2012, up 10 percent year-on-year. Advertising revenues were up seven percent for the quarter, and for the whole year amounted to $412.9 million, up 12 percent from 2011. But all that investment in growing Weibo, which is Sina's most popular product, once again resulted in rising costs for the company as a whole – income fell sharply to $2.4 million in Q4, down from $9.3 million in Q4 2011.
Weibo monetizes mainly from advertising and brand partnerships, with some income also coming from its Facebook-like social gaming platform, which launched back in 2011.
$SINA fell in Tuesday trading after the numbers were revealed, dropping 4.5 percent to stand at $53.48 per share. Sina's shares peaked at over $130 in April 2011.