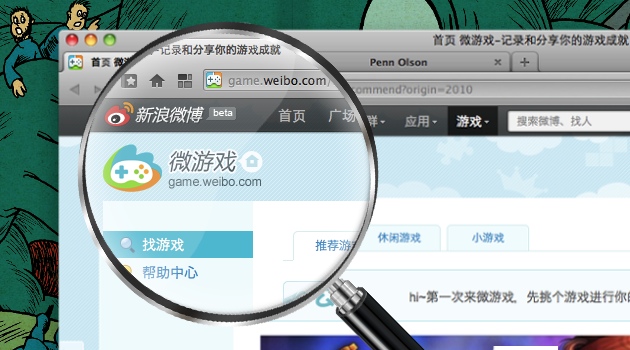 New stats reveal the astonishing and meteoric rise of Sina's (NASDAQ:SINA) Weibo service from a simple, Twitter-like microblogging platform, to being a Facebook-rivaling online gaming powerhouse. Since Sina Weibo launched its gaming portal in July of this year – along with a virtual currency called the weibi – it now claims to have nearly 10 percent of its total amount of users (now up to 250 million) as active social gamers.
So, in the four months since the inception of Weibo games, here are some eye-watering figures from Sina:
Weibo Games active users: 22 million

Greatest Weibo game user adoption: 1 million new users in 7 days

Highest game revenue in one single day: 500,000 RMB (US$78,800)

Highest single game revenue so far: 4 million RMB ($630,200)
The most profitable game mentioned there is actually Texas Hold 'Em Poker, which we reviewed before accompanied by the Sartre quote that "hell is other people." Its maker is the Shenzhen-based Boyaa Interactive, which also has titles on DeNA (TYO:2432), Renren (NYSE:RENN), and Facebook. Its poker game on Sina Weibo is quite light on the sales-pitch compared to some other online titles, and monetizes itself mainly by users who use real money to buy Sina's weibi to get a mountain of in-game money. (Read a trio of our Weibo game reviews here).
Remember that Sina is currently taking zero percent of a revenue cut – in contrast to Facebook's 20 percent slice, or Apple's and Google's 30 percent on their respective platform's mobile apps – but that's most likely just a promotional stunt which will be reviewed on June 6, 2012. Sina has been spending big on Weibo this year, and it needs to start making some money from it.
And that's a glimpse deep into Sina's newly-discovered goldmine with which it can perhaps beat Tencent's (HKG:0700) own microblogging service – which has the same generic 'Weibo' name – and then challenge China's decade-long social gaming king: Tencent's QQ and QZone killer combo.
[Source: TechWeb – article in Chinese]