We released our Startup Asia Singapore 2013 infographic, and it's looking pretty thanks to the folks at Piktochart. Our friendship with Piktochart goes a long way and across countries, too.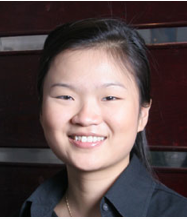 I met Ai Ching (pictured right), co-founder at Piktochart two years back when I visited the Chinaccelerator space in Dalian and watched her pitch at its demo day in Beijing. For some loyal readers and supporters at Tech in Asia would also know that Piktochart was one of the Startup Arena finalists at our Startup Asia Singapore 2012 event as well.
And it's also encouraging to know that Piktochart has since acquired more than 170,000 users, is currently profitable, and has an upgraded infographic builder. For today's post, we wanted to know about Ai Ching and the Piktochart team a little more, and fire some questions about her philosophy as a female entrepreneur.
Tell us a little about yourself
Ai Ching: I love hardware although I am not an engineer and lately, my number one shopping site is Kickstarter. I did experimental psychology at university, and prior to starting up, I spent 15 months at Procter & Gamble (P&G).
What does your startup do, and what is your role?
Ai Ching: Piktochart is a web app that helps non-designers create beautiful infographics. We're envisioning that text-based blogs would slowly morph into number-based infographics someday, and our vision is to present information in the most beautiful way possible.
I currently take charge of recruitment, a little finance, analytics, partnerships, UX, customer relationships, and ensure that the Piktochart's team keeps shipping new code (or removing code bloat). My main focus for 2013 is on growth – both at company and personal level. I hope to have more partnerships with other companies and ensure that each and every one in the team takes away something valuable for the year.
How and why did you get started in this industry?
Ai Ching: When my co-founder, Andrea Zaggia, and I quit our day jobs, I was very fascinated with tech startups but had no business ideas in mind. Andrea and I both loved design and had great designers. And when we saw that the idea of infographics was going to become a permanent trend and there was no infographic editor out there, we wanted to create one that people could use.
Did you face any challenges in particular?
Ai Ching: Similar challenges that any startup would face – Hiring, growing, expanding, and looking for investors who would be like mentors to us
I understand that you stayed in China for a while to develop Piktochart. Care to share more? How did you seek help from relevant mentors, especially when you are in a foreign land?
Ai Ching: We were quite fortunate to find Chinaccelerator as they had a huge network of mentors who were mainly expatriates based in China. Finding a mentor who is experienced in our sector, be it data or presentation, and with the passion to really help us, is not easy. Regardless, we managed to get a couple of them.
You used to work for P&G. What was fundamentally different being in a corporate career as compared to a startup?
Ai Ching: The main reason why I left P&G was because the bureaucracy was always making things move slower. Once you spot a trend, it is so difficult to go through with it with the large amount of meetings and red tapes that comes with it.
On the other hand, a startup has much greater flexibility. That is why Jason Fried of 37signals recommends the strategy of having little or no meetings at all in a startup environment. I agree on that. Keeping lean, keeping agile, and staying hungry were all very attractive to me.
Do you think your gender has played a role in helping you gain an advantage over your male counterparts? (soft skills, personal touch, attention to detail, etc.) Has it been a disadvantage in any way?
Ai Ching: Females definitely bring a different "energy" to the organization. I find that they are generally less stuck in the mud when the going gets tough. Having the ability to multitask and having a super eye for detail would also complement the "Charge, Spartans" philosophy that most males have.
I don't know about gaining an advantage. When I read Sheryl Sandberg's Lean In, I knew what she meant when she said that successful women attribute their success to "luck" and "help I got", while men attribute their success to "my skills" and "my personality". I have never felt anything that was truly discriminating towards females because the media, public, and investors these days are getting more well-versed with female co-founders. I know for sure that when we were in a networking event in Southeast Asia, women still tend to stand out because the ratio of men is to women is around 80 to 20. In the Silicon Valley, I do not recall a great disparity either.

In your opinion, what are the necessary skill-sets and attitudes required to succeed in the technology and startup industry?
Ai Ching: There are three:
Be humble enough to receive feedback and re-iterate/pivot. Quite a lot of people stick to their own ideas and are unable to kill their own baby. This happens with us too. We have to constantly find ways to challenge ourselves to break the rules.
Establishing a great company culture from the beginning. A lot of success is attributed to agile and lean environments which I do not disagree with, i.e. "fail faster". Any startup is only going to survive if the team sticks around, constantly be motivated, and strives to learn new stuff every day.
Find joy in everything you do. Do you know what's the difference between a person who is working versus a person who has actually found THE CALLING in their lives? The working person tries to finish up the codes from 9.00am to 5.00pm, praying that there will not be any bugs or coding issues. The person who finds it as a calling, derives joy in even the most mundane and annoying of tasks. Building a great product is only possible if the team is 100 percent into it, which includes emotional feelings too.
Do you have any female role models that you look up to?
Ai Ching: I am a big fan of Julia Hartz, co-founder and president at Eventbrite. I've heard Julia speak in an event and her energy is just contagious! And despite her roaring success, she still speaks with humility. I also love the culture she has established in her company.
I also look up to Danielle Morill, CEO and co-founder of Refer.ly. She's extremely down-to-earth, not running blind into any trend without thinking it through (it took her 3 years to start Refer.ly). Andrea, my co-founder, has met her in Mountain View and we love what they are doing with its product and direction.
Perhaps another interesting fact that draws me to Danielle is both Refer.ly and Piktochart actually have husbands on the teams as CTO!
Do you have any advice for fellow female entrepreneurs?
Ai Ching: Just go and do it! Find what your strengths are, validate the market over and over again, and have the courage to take the first step.
On a more practical note: You could learn coding if you feel that you have the talent and passion for it. I would definitely recommend at least a bit of a HTML background so that you can edit the copy and website on your own, without bothering the programmers with really simple issues. I have met other female founders who got really frustrated because they felt that the codes were not rolled out fast enough. While at times that might be true, the coders sometimes have a reason for not shipping.
Are you married? How do you strike a balance between work and personal life?
Ai Ching: As mentioned, I am married to my CTO. Piktochart has been all-a-hustling for at least one and a half years now. The funny thing is when the husband and wife are both involved in the exact same business, it is not really like we need to find time to spend time together. When I am travelling, the last email gets shot out at around 2.00 to 3.00 am. When I am at home, the last email gets shot out around latest 9.00 to 10.00 pm.
I find it important to be really focused and keeping up a good fight on the business with joy. When necessary, long hour are not a problem because for one, the business requires me doing so and two, I am totally happy to do so. Otherwise, what is the point?
Was it difficult being on a husband and wife team? How do you both manage to separate personal life from work?
Ai Ching: Initially yes, I was impatient and really pushing all the buttons to get the product out faster. But after some time of understanding the business, I cannot be more grateful for a husband who can get things done. We barely need to discuss to get agreement because it usually comes as a mutual yes/no now.
Anything else you would like to add?
Ai Ching: I would love to get in touch with anyone who would like to visit us in Penang! We are attempting to start a makerspace and a space to invite international speakers to grow talents in Penang.
(Disclosure: Andrea frequently works on the coding of our site)