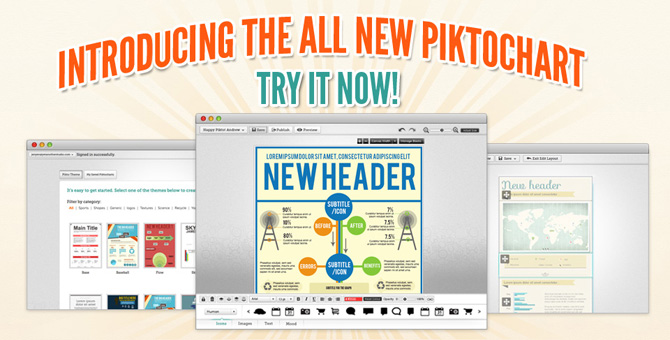 It's always heart-warming to see a startup growing from a paper idea into reality and success. Alright, success is subjective. But I think the folks at Piktochart have done quite a phenomenal job so far. Piktochart is a simple-to-use online infographic builder for both designers and non-designers. We know that our readers love it.
[UPDATED: The new Piktochart tools are now live and can be found here].
The Malaysian startup was part of the 2011 China Accelerator program and also took part in our Startup Arena competition in Singapore last year where they won third place. (Shameless plug: this year's Startup Arena in Singapore is still accepting startup applications). Today, Piktochart announces its new and refreshed infographic builder with more useful features packed into this upgrade. Users can now include hyperlinks and multiple clickable tabs all within a single infographic. Infographics in HTML format exported from Piktochart are now search engine friendly too. Previously, only images could be exported.
To date, it has over 5,000 premium users, with more than 170,000 users altogether. 51 percent of Piktochart's users are from the U.S. and Canada. When asked if Piktochart is profitable, CEO and co-founder Ai Ching Goh told me that the startup has been profitable since June 2012 and is now generating more than $40,000 a month in revenue. In September 2012, Piktochart received $140,000 of commercialization funding from Cradle Fund to scale its business.
Founded in June 2011, the Piktochart team consists of a total of nine people today. The startup claims that they have no tricks in scaling up at such a fast pace. Ai Ching believes that building a product that meets the market's needs is key to success. She also credits her team, all of whom are willing to sleep in the office to work things out whenever needed. Her future plan is simply to make Piktochart better by listening to its users. She shared with me some of Piktochart's future plans:
[We aim to] make Piktochart even better. We are planning for interactive controls such as tabbing and tool tips – but make them more graphically relevant so that it replaces any wordy landing page. Interactive, simpler, more-user-friendly, and we will keep iterating based on what users tell