Chinese tech startups got together at a beautiful old opera theater to pitch their products to a room full of investors on Monday in Beijing at the Chinaccelerator Demo Day. The Geeks on a Plane were on hand, as were a number of other Chinese investors, and a bunch of startups stepped up to the plate. Some sound issues prevented us from fully enjoying the videos some groups had prepared, but they powered through it. Here's who we heard from (in the order they presented).
Note: I have included a few of my own thoughts after each start-up. These are just my opinions, and investing based on my opinion is probably not a good idea. Just so you know…
---
---
EProf aims to simplify and perfect online instruction by providing great teachers with a platform through which they can offer classes to students. Central to eProf's presentation was the idea of the importance of true, real-time interaction, which is why the service has a live classroom feature that can support up to thirty students per class. At the time of their presentation, it had only been live for about twelve hours, but team leader Trevor said the early response had been very good and that the company expects teachers to be able to earn as much as $300 per class — that's good news for teachers struggling to make money off their trade in the online sphere.
My take: Putting teachers first (and paying them a decent wage) is sure to make teachers happy. But how many students are looking to learn this way? That remains to be seen, but with education in many places still relatively untouched by the techological advances that have so revolutionized other fields, it's no wonder people are taking a crack at changing that.
---
LuRenJia
---
The folks at LuRenJia look at Chinese colleges and see a problem: nearly everyone there wants to be in a relationship, yet despite the prevalence of social networking sites like Renren and Sina Weibo, nearly all Chinese college students are single. Did you know, for example, that there are more single Chinese college kids than there are people in Australia? It's true, apparently, and it's a goddamn tragedy, so the guys at LuRenJia have created a social network of sorts that emphasizes meeting new people and makes connections by interests and location rather than helping you hang out with people you already know. It also has LBS-like tag features that allow you to leave messages for people you saw in a specific place and want to get to know, sort of like "missed connections" on Craigslist only without all the sketchy murderers. To monetize it, they're planning to run ads and implement a virtual currency system down the road.
My take: Virtual currency? Barf. But Chinese college students are definitely interested in dating but too afraid to ask anyone out in person, so this could take off. It actually has Weibo and Renren integration, so it's not fighting the tide and may well fit into college students' online habits. Color me cautiously optimistic about this one.
---
---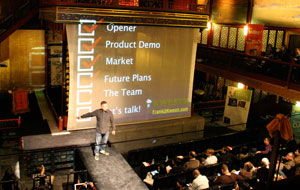 Do you like lists? Kwestr freakin' loves them. It loves them so much it's built a whole platform based on them, attempting to gamify them so that users can turn mundane tasks into something a bit more interesting. The checklists on Kwestr are totally socialized, and the integrate with basically any SNS you might imagine, but it seems like the real focus of this is more corporate-based, as the platform can provide corporate clients a way to make things like online training a bit more fun (and force employees to share stuff on social networks to get prizes).
My take: It was a short pitch — they all were, by necessity — but I was left wondering why users would bother, unless they were being forced to by their employers. There didn't seem to be enough "game" there for me, and the idea that games can be broken down into lists is, I think, missing what makes games fun and grabbing hold of what often makes them monotonous. That said, there are a lot of reasons why this would be a great platform for employers and companies to promote themselves, offering discounts (or whatever) in return for completing promotional quests, so they'll probably be quite successful. Also, on an unrelated note, I hope they change their name (or maybe take some spelling classes on eProf).
---
---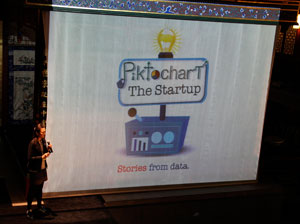 Piktochart aims to be a resource for people looking to create compelling charts, presentations, and infographics who are short on time and graphic design skills but are looking to keep from boring their subjects to death. Subscription is not free, but for a small monthly fee, users or companies can access Piktochart's simple back-end to create powerful graphics and text, with no graphic design experience required. Design comes in via pre-made templates, some of which come with a subscription, others of which can be purchased from the designers.
My take: Ohmigod. I want this. OK, so, as a tech blogger I may not represent the average user, but being able to create infographics to present information — stories, really — quickly and easily? Yeah, I'll take that. It beats fighting with illustrator and photoshop for hours. The subscription ($10/month for individuals) seems a bit steep, especially when there's a limited number of themes to draw from and premium designer themes cost extra, but it's still pretty tempting. And since infographics seem to spread like…well, something that spreads really fast, I'm guessing this one will be around for a while.
---
---
Order With Me is a group buying site for small companies that allows them to buy directly from Chinese factories without having to order in massive quantities. The site is curated by a team of Americans on the ground in China, and features only the best products from the best factories at the best prices — or so they say — so that small business owners in the US don't have to comb through thousands of listings trying to figure out what's crap and what's not like they would on Alibaba. With the middlemen all cut out, Order With Me allows small business owners to source their products in China easily and increase profit margins substantially, all while being able to rely on an American customer service team that's on the ground in China helping them.
My take: This will sink or swim on the strength of the products they offer, but very early in the game they're already seeing a remarkable amount of interest. I don't know enough about business or factory sourcing to know if their claims are true, but let me put it this way — the presentation had me thinking I should move back to the US and start a small business based on selling products sourced through Order With Me. I'm not going to, mind you, but I was thinking it. So yeah, it was a pretty good presentation.
---
---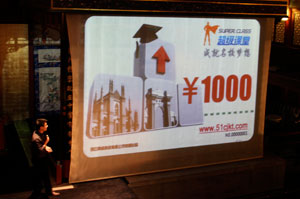 Education in China is super important, but it's also super boring. What's the solution? Super Class! This online learning platform uses clips from popular music and movies to help teach kids concepts in their textbooks without making them want to poke their eyes out from boredom. In the example we saw, a clip from The Lord of the Rings films was used to teach physics. The lessons are also interactive, with the film clip stopping from time to time to ask students to answer questions. The site also offers a way to easily connect students to tutors via voice chat and even live video. Courses are 1000 RMB for three years, a relative steal, and supposedly, both parents and kids are raving about it.
My take: What we saw looks impressive, but they only offer two classes — Physics and Chinese — so far, and I have a feeling they're going to be hard-pressed to find ways to use pop culture to teach algebra (although English, a compulsory subject in all Chinese schools, ought to be a home run). If they can pull together teaching materials as compelling as what their demo showed for every subject, they'll be successful, but that is not going to be easy.
---
---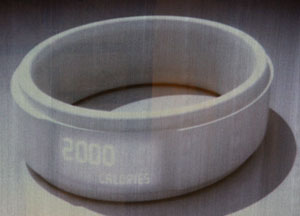 This was one of the few startups offering a physical product in addition to a web experience. In this case, it was a wristband that tracks things like your speed, steps taken, calories burned, etc. and then syncs automatically with a social network of sorts that allows you to share your accomplishments with friends, and also set and achieve goals in groups. They plan to sell it through partnerships with gyms as well as through their own site, and because it's a wristband, they say, it's more convenient and stylish than those fiddly clip-on things that other companies are selling that attach to your belt. Their service will include Renren and Weibo integration.
My take: Gyms users are a big market in China, and if the hardware works — and looks — as good as they say it does, they might have something here. The prototype the presenter was wearing was big and pink and wasn't the sort of thing I — fashion-conscious tech blogger that I am — would be caught dead wearing after labor day, but the final design was a more understated thing. We'll have to see if it comes out as convenient and easy-to-use as they're claiming it will.
---
---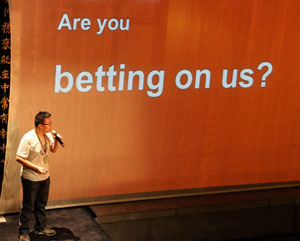 Ibragu is the website that allows you to bet on anything. Except not really, because you can't bet real money, since that's illegal with China. But, seizing on the idea that making bets with friends is fun, the team has created a service that has allowed to to construct and share bets with friends. The stakes are also up to you — anything from buying the winner a beer to kissing a donkey — but the site obviously won't do anything to enforce them, so it's all in fun. They plan to monetize it via ads, and also through branded opportunities (for example, instead of betting your friend a beer, you bet a Budweiser).
My take: Hate to go negative here because I enjoyed the charismatic presentation, but I'm not at all convinced that people need a wholly separate service to make bets with their friends. This probably would work better as a Facebook (or Weibo) app and I won't be surprised if that's where it ends up. The monetization plan seems a bit haphazard, and as far as the name goes, come on. There's no need for Chinglish in a company name, spelling "you" as "u" is straight out of a sixth-grade girl's trapper-keeper, and guys, you're not E.E. Cummings, so use capital letters like the rest of us do, OK?
---
---
Made to Fit Me is a website that allows women to buy custom-tailored dresses from China for reasonable prices. The site, which was designed to make shopping an enjoyable and unique experience, allows ladies to choose details like fabrics and colors, and then gives them detailed tutorials on how to take their own measurements so they end up with a dress that really fits their body properly (unlike most dresses you find in stores, apparently). Made to Fit Me's dresses run about 100 pounds apiece — I've never been to the UK but apparently that's pretty cheap for custom-tailored dresses — and skeptical ladies can even get a free mailing with fabric samples and a tape measure if they're willing to give up their email address. Sorry gents, nothing for you here yet.
My take: The site only offers two dresses so far, but I assume they'll offer more soon enough, and I don't dare say anything bad after such an intense and passionate presentation. Alex is apparently very dedicated to offering ladies custom dresses at reasonable prices, and I'm not exactly his target market, but what we saw looked slick and clean, so I'm willing to bet there's a future here.
---
And that's it! I can't believe I wasn't meaner in my comments, but what can I say, when you come right down to it, these guys all had pretty interesting ideas, regardless of where they end up, it was fun meeting some of them and seeing more of the startup scene in China. I'm looking forward to seeing what these guys can do, and I also can't wait to see what the next crop of Chinaccelerator startups brings to the table.