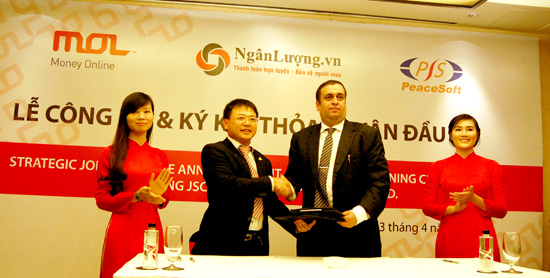 Last month, Ngan Luong, one of Vietnam's leading online payment startups, got 50 percent acquired by MOL. This was big news for a country that is still predominantly cash-on-demand (COD) and whose online payment industry is still in its infancy. So I sat down with Ngan Luong's CEO Nguyen Hoa Binh to get the lowdown on the online payment scene here in Vietnam. Binh first founded Peacesoft in 2001 while he was a sophomore in university. Twelve years later, he's built it into one of the most significant e-commerce players in Vietnam.
In Vietnam, COD is huge. What do you think of Vietnam's cash economy, and where does online payment factor into that?
Binh: In my opinion, beating COD in the near future is not realistic as you cannot build Rome in one night – especially as it means educating mass habits. NganLuong however cooperates and hence co-exists with COD by a strategic partnership with ShipChung.vn, the first and only shipping gateway in Vietnam that connects to leading shipping companies and then – through an open API – lets every e-commerce website automate shipping fee calculation, shipping orders, and COD processes. In this partnership, NganLuong serves as an online bank that helps ShipChung in settlement of seller's cash into their eWallet account, so the whole COD payment volume still goes through us. By this way we do not compete but utilize COD to grow e-commerce in a strong and united ecosystem, NganLuong has become the first and only online payment platform that supports cash.
In the future, where is online payment headed in Vietnam?
Binh: I believe online payment in Vietnam will stay at the intersection of the three strategic markets which are: e-commerce payment, which will be worth billions in the future, digital goods payment, which will be worth $1 billion in 2015 according to VINASA, and mobile payment, which is a growing trend.
In the beginning, how did you grow NganLuong, especially in 2008 when you started it up? It must have been difficult with such a nascent market, right?
Binh: As we needed payment/escrow function for our e-commerce sites and there were no one that could meet our requirements, so we became impatient and I decided to develop our own solution, both for ourselves and other e-commerce sites. It was important that we were the first to support offline payment channels like bank transfer, ATM, escrow that other players didn't have. My tactic at that time was: we have very limited funding, we cannot compete by cash with other players, and also we need to take control of our own platform, so why don't we develop a very simple version first. It was about lean startup – learn and change. And then we introduced better versions later, as timing is very important. From 2008 until now, there have been many models that have risen and fallen alongside NganLuong, many of them have spent millions of dollars on models that haven't worked. So there's something to Binh's method.
What were the key factors that allowed you to be successful where others failed?
Binh: PeaceSoft group's experience from many Internet-related portfolios (over 12 with an above 80 percent success rate) has so far has shown that money (aka: investment) is not necessary. The most important things are:
Understanding the market and nature behind every action that you take.
Having your own unique innovation to differentiate – not copycat blindly.
Bootstrapping your costs.
Executing in the most optimized way.
These points are absolutely crucial for surviving in the Vietnamese market.
---
There are some interesting lessons here for folks interested in getting involved with e-commerce and payment in Vietnam. Basically, instead of working to destroy COD, NganLuong incorporated it into a delivery system. This is probably one reason why GHN, which specializes in delivery and cash-on-demand payment, is one of the more promising startups in Vietnam. NganLuong's current innovations won't stop there. Binh says they will try to stay on top of this by introducing two new payment methods later this year. Binh also cites that NganLuong was able to leverage the power of the e-commerce ecosystem that was already available via Peacesoft, and this was key to the success of NganLuong. This is an important factor for doing business in Vietnam where much of a success is built on top of relationships and leveraging ecosystems. With access to customers via eBay.vn, ChoDienTu.vn and his other properties, he could push users onto the payment platform.