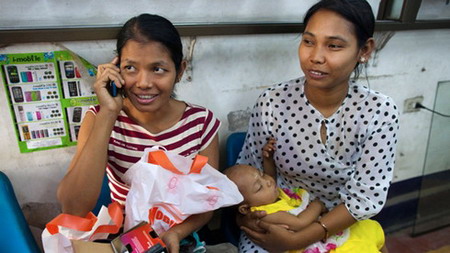 Newly opened-up Myanmar has this afternoon confirmed the winners of the multi-billion dollar bid to build the country's next-generation mobile network. According to the Myanmar government's evaluation committee, Norway's Telenor (STO:TELO) and Qatar's Ooredoo (LSE:QTED) are the two selected mobile telcos.
While it's a huge boost to Telenor and Ooredoo (rebranded from Qatar Telecom yesterday), it's a disappointment for the two Asian applicants, Malaysia's Axiata and Singapore-based SingTel. 90 companies had initially applied, but several big names backed out later on, such as a consortium bid by Vodafone and China Mobile. 11 bids remained in the race to the end.
Myanmar will likely go mobile-first into the internet age, so its new mobile infrastructure is hotly anticipated as a basis to grow e-commerce, social media, and local tech startups. Last week we looked at Squar, which aims to beat Facebook on home turf with its mobile social network.
Here's Myanmar's official notice, as posted by Ye Htut on Facebook: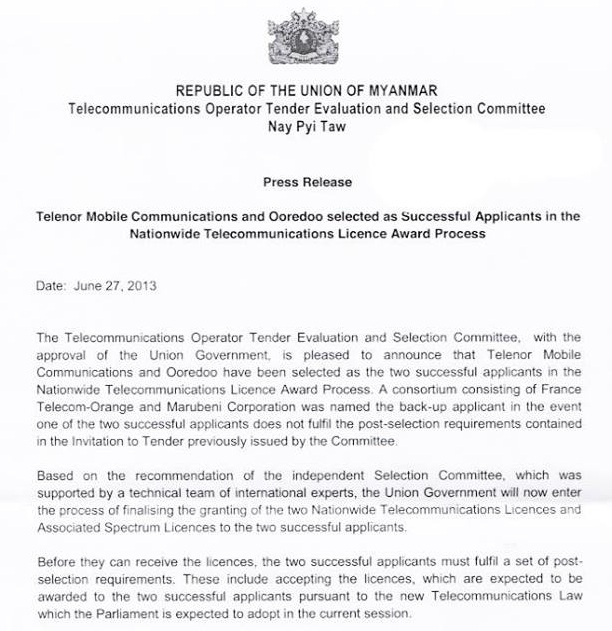 (Hat-tip to Wai Phyo Kyaw for posting this on LinkedIn; Announcement from Ye Htut on Facebook; Photo: Thanhnien News)
(Editing by Willis Wee)