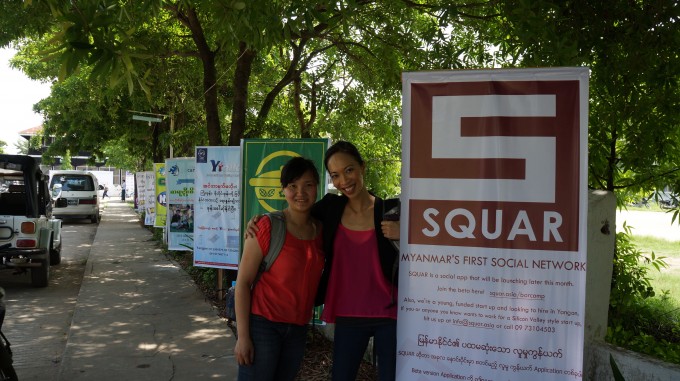 We all know that Myanmar is not only opening up, but it's also a market that is ripe for the pickings. Currently, big brands like Coca Cola are entering the fray and telcos are finalizing bids for providing nationwide internet and connections. The country's got some serious infrastructural and institutional catching-up to do. But Rita Nguyen, founder and CEO at homegrown social network Squar, believes strongly in the potential and the inevitable lightning speed growth we're seeing and about to see in Myanmar.
Squar, which aims to be Myanmar's first social network, is at the bleeding edge of social media in a country where internet penetration sits far below 10 percent, and SIM cards (because of their rarity) cost over $200. And yet, startup hack contest Barcamp Yangon hosted a record breaking 6,200 participants recently. In other words, people may be green, but they're extremely hungry for innovation.
Rita explains:
Currently, Burmese people are hungry for consumer stuff. Big brands are entering but the only platform is Facebook. There's nothing really helping consumers day to day, and digital closes those gaps. I mean, print publishers just got granted licenses to print.
In other words, with the telcos coming in soon and prices soon to drop like hip hop beats, digital has the potential to take off where other more traditional mediums will struggle to. Myanmar's many setbacks are huge opportunities.
The barriers Myanmar faces
But it's not all smooth sailing in Myanmar. Rita says that for Squar to really take off, there are a few peculiarities of the Myanmar market that have to be dealt with.
It's predominantly mobile-oriented, with DSL and broadband almost non-existent. You won't see the plethora of internet cafes that we see in Vietnam and China. In fact, Rita thinks there just might be 1,000 internet cafes across the whole country – that's for a population of 50 million people. That's why Rita anticipates Myanmar, within one year, will hit 30 percent smartphone penetration, and 80 percent mobile penetration by 2015.
Chinese Android handsets are coming into the country like water. In some cases, smartphones are cheaper than many feature phones. So once the price of SIMs inevitably drops, we're going to see an explosion. Android dominates smartphones with anywhere from 80 to 90 percent of the smartphone market.
This is why Squar first released on Android and the web and iOS versions will be coming later.
Rita has also identified other unique aspects of the Burmese reaction to mobile. They don't have an early adopter culture, so users won't be so forgiving about features they want or bugs they identify. There is no standardized language input. Currently the two keyboard input methods, Zawgyi and Unicode, are the main ones, and Rita hopes the transition will be over to Unicode as that's much better. The Google Play store also isn't supported in Myanmar, and the Burmese language isn't supported on popular platforms like WordPress.
Where Squar fits In Myanmar's round pegs
Despite the foibles, Rita is confident that Myanmar may be one of the fastest digital revolutions we may ever witness. And Squar, she hopes, will be one of the epicenters of that.
Squar, as you can see in the screenshots below, focuses very much on encouraging users to share and interact in communities or forums in topics that they're interested in. This is a big problem for Myanmar, where content is still in its infancy. Rita says that Squar is not looking to be a news portal, but rather, encourages users to generate content together. In this way, Squar does compete with Facebook, but is more focused on getting consistent and readable content that is topic-centered. The site has only been running for the past week (EDIT: not a month) with about a hundred beta testers, but the team is looking to conquer Myanmar fast and is hiring aggressively.