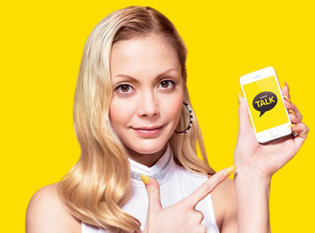 Recently we've written much about the success of NHN Japan's Line, both in its home market and abroad. The chat platformed has been used very effectively to distribute the company's apps, its games in particular. In response, Japanese mobile gaming leaders DeNA and GREE have published their own chat apps (Comm and GREE Messenger), and no doubt plan to distribute games in this way as well.
But there's a new player in town as well, as Korea's Kakao has been trying extra hard in Japan, particularly in the past week or so. While the company has offered its app in the country for some time now, consumers are finally seeing KakaoTalk making a strong push in the last ten days or so with a television ad blitz.
The commercials feature model/entertainer Anna Tsuchiya, who demonstrates some of the more appealing features of the app. As you can see in the videos below, the group chat feature – which can be used by up to five people – is their big focus, as is the fact that all stamps/stickers are free [1]. As with many commercials in Japan, they're a little strange, but pretty funny all the same.
The ad blitz seems to have worked too, as KakaoTalk broke into the top ten free iOS apps in Japan last week, peaking at number five on Thursday. In the social networking category for Japan, it's currently ranked fourth.
So far KakaoTalk has about 7.5 million users in Japan, in comparison with Line, which has about 37 million users domestically. Back in October, Yahoo Japan acquired a 50 percent stake in the KakaoJapan subsidiary, and that should significantly help its push in the country.