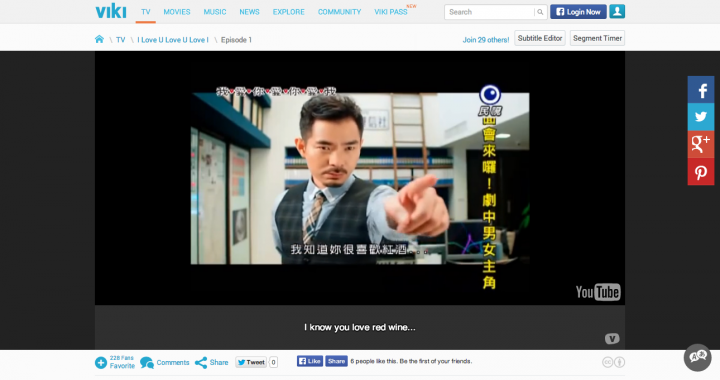 Viki, the fast-growing video streaming site best known for its catalogue of Asian TV shows, today announced it will be partnering with Baidu, the Chinese tech giant, as a distributor of its content throughout China.
Acording to Viki, its content is discoverable on the v.baidu.com page, which is where one location where Baidu aggregates videos. Baidu will be using Viki's own media player, and as viewers watch the video, a link to Viki's homepage will be visible in the player's lower left-hand corner.
The partnership will likely give a welcome boost to both parties as they race to attract Chinese viewership.
Viki has been open about its aspirations to be the Netflix or Hulu for the rest of the world, and its key differentiator as a video platform – content from all over the world, made accessible via crowdsourced subtitles – has helped its service pick up 22 million monthly active users globally.
Viki has been building partnerships in China with companies including LeTV, Xunlei, Renren, and others over the past 18 months, the company notes. A few weeks ago, it signed a deal with Sohu that allowed it to serve as the global platform for that company's original series. But the video streaming space in China is extremely fragmented, for licensed and unlicensed content alike, so Baidu's muscle in search can undoubtedly help swoop in viewers looking to watch content produced outside of China. For example, if a girl in Sichuan searches for her favorite Singaporean soap opera on Baidu, if Viki has license to stream it, she'll probably be directed to Viki's version of it on Baidu's video platform.
Baidu, likewise, will gain yet another edge over like-minded competitors Youku, LeTV, PPTV, and others. Remeber that Baidu owns the Hulu-like iQiyi and PPS sites. Viki's fast-growing library of TV shows, movies, and music videos would be an asset to any video streaming site.
Viki was founded in Singapore in 2011 by Razmig Hovaghimian, Changseong Ho, and Jiwon Moon. The team began licensing content created in Southeast Asia, East Asia and India, and then began moving towards capturing Latin America and European markets.
Early last September, in one of the biggest ever acquisitions in the Southeast Asian consumer web space, Japanese tech giant Rakuten purchased Viki for $200 million.
(Editing by Steven Millward)