Rakuten's reported USD 200M acquisition of Singapore and San Francisco based startup Viki is by many accounts positive news. In fact, it is the biggest known exit for a Singapore web and mobile startup in recent memory, eclipsing sgCarMart's USD 48M deal earlier this year.
While large exits are lucrative for investors, their benefits go beyond the monetary: They create a virtuous cycle of innovation that sustains startup ecosystems.
Exits ensure a re-circulation of talent and capital. Founders can go back into the game or use their returns to invest in startups. As mentors, they can guide the next generation of entrepreneurs on turning a solo project into a profitable 100-person company, how to negotiate deals, and how to exit.
Would-be investors and entrepreneurs would take a closer look at tech startups. For investors, it's all about the ROI on their capital. For entrepreneurs, it's about whether a particular country is a viable place to start a tech company.
Exits make startup life more glamorous. Of course, never underestimate the pitfalls and psychological sacrifices of starting up. But every risk must have its reward, and the higher the upside, the more people would be willing to go down this route.
So, given how acquisitions can benefit the startup ecosystem, it should definitely be an indicator to watch out for.
But just how groundbreaking is this USD 200m deal? Here's the TL;DR version: it adds credibility to Southeast Asia's ecosystem, but that doesn't mean that Singapore is in the top echelon of tech innovation.
Let's break it down:
Viki is a win not just for Singapore, but for Southeast Asia.
First, let me emphasize that Southeast Asia is not just about Singapore. Far from it. There are thriving ecosystems in Philippines, Indonesia, Vietnam, and Thailand. These markets are huge, full of potential and are set to grow even bigger as millions more discover the Internet.
That said, Singapore plays a crucial role in the region. Its business-friendly tax policies, efficient government, and low corruption make it an attractive place to form a startup or an investment firm. It's a vibrant events hub too, serving as a safe and secure epicenter for the region's startup communities. Many deals have their beginnings as chatter in Singapore.
So, any win for Singapore does have a knock-on effect on the region, since many startup dealmakers and investors located in Singapore are well-aware that there are problems in the region waiting to be solved, and savvy entrepreneurs who are out tackling them.
Southeast Asia's ecosystem is on the up and up.
Four out of ten of the largest acquisitions in Southeast Asia occurred in the past two years. This year is especially significant for Singapore, with eight recorded deals and two of them (Viki and sgCarMart) landing in the tens of millions.
While not a well-known fact, Malaysia is seeing some success not in terms of acquisitions, but the number of tech companies going public. In fact, four out of five largest public tech firms in Southeast Asia hail from Malaysia, ranging from USD 56.99M to USD 268.20M in market cap, says Khailee Ng, an investor at 500 Startups: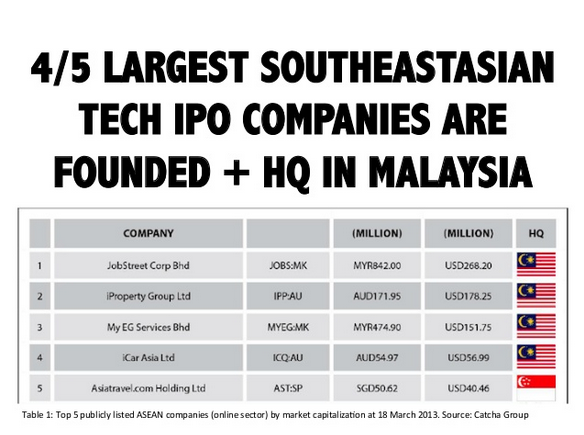 From his presentation, Malaysian Startup Life in 10 Slides 
In Singapore, PropertyGuru could very well join this list. It has stated its intentions to go public at a tech startup conference this year. We could also expect to see more exits in the coming years that would be worth tens of millions.
Rakuten has been rapidly expanding regionally and acquiring assets beyond e-commerce. It invested in social bookmarking site Pinterest and purchased e-book platform Kobo for USD 315M. It has also engaged the Singapore developer community, hoping to spread the use of its API. More acquisitions would certainly be in order.
Viki's exit could make angel investing more enticing.
For angel investors, the USD 200M deal could have a decent-sized return. Assuming that its USD 4.3M Series A round was worth 10 percent of equity, that would equate roughly to a 4x return. Even earlier investors, which may or may not have been part of this round, would have profited even more. In Silicon Valley terms, anything above 5x for angels would be considered beyond the norm.
As such, Viki's exit is considered good news for the region's angels and pre-Series A investors of the NRF-TIS vein. Silicon Straits' (formerly Neoteny Labs) James Chan must be beaming. It pushes boundaries of what's possible here and signals that Southeast Asia may soon see even larger exits.
Venture capitalists may want to see more.
From a venture capitalist's perspective however, the Viki deal isn't spectacular. Assuming a Series B round of USD 20M at 20 percent equity, these investors would be getting roughly a 2x return, which is middle-of-the-road but probably not a home-run. Of course, the notion of what an acceptable home run is depends on the VC's batting average and investment strategy.
So, expect venture capitalists to continue focusing on China and India. At most, we might see a slight increase from Southeast Asia's measly four percent share of Asia-Pacific's VC market. While the Viki exit dwarfs India startup redBus' sale for USD 125M — the largest in India to date — there aren't enough tech companies in Southeast Asia that are on the level of Flipkart, Inmobi, and JustDial.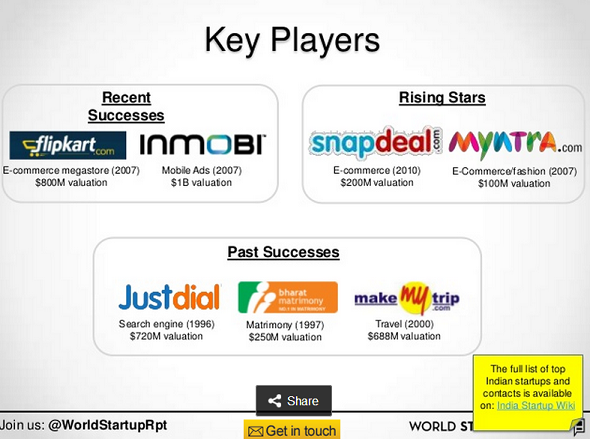 From World Startup Report
It's possible to do a global startup from Singapore
The top ten list shows an incredible amount of diversity in companies. SgCarmart and HungryGoWhere are examples of hyperlocalized startups that won by dominating the market, proving author Bernard Leong right that a regional play isn't always necessary for startups in Singapore at the initial stage.
On the flipside are companies like Viki and tenCube, which have global products designed to scale rapidly. Viki's top markets, at least for its mobile app, are US and Canada, followed by Indonesia, Malaysia, Singapore, and the Philippines. Not on the list is gaming peripherals company Razer, which is killing it in the United States while maintaining a presence in Singapore.
So with the right connections to networks, funding, and a presence in the target markets, starting out from Singapore is possible, even if the world's your oyster.
Still a lot of work to do
The Viki acquisition has certainly created a feel-good factor for Singapore. But it is still lacking a home run that will truly capture the public imagination in the same way Creative Technology did in the heady pre-Dot-Com days.
Viki could be a step towards that ideal. Its acquisition certainly builds credibility for Singapore and validates the government's hands-on approach. It's worth noting that while Viki was founded in the US, it became headquartered in Singapore to take advantage of the state's generous funding schemes.
But in terms of output I don't think it's on the level of Israel, China or even India yet. That will take time.
Ultimately, the Viki deal must result in a re-circulation of talent and capital back into the startup community. While there's always a chance that most of the capital and expertise will flow elsewhere, let's hope the existence of a vibrant startup community in Singapore will keep Viki rooted in the country, through good times and bad.